---
Academics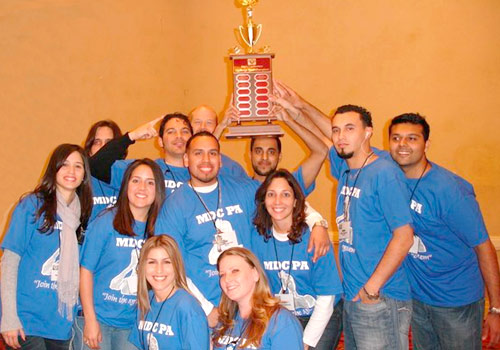 On a winning streak
Students in MDC's Physician Assistant program once again defeated the competition at this year's Brain Bowl in Orlando, defending their title as the undisputed victors since the competition began four years ago. The Florida Association of Physician Assistants brings students from Physician Assistant programs across the state to compete in a gameshow-like competition that covers a range of medical topics.
This year's competition included 26 teams, all of which were from master's programs except for MDC's team, which consisted of students at the associate level. A total of 12 students in four teams represented the school, with seniors participating in three of those teams and juniors working together on the last team.
In keeping with their winning streak, two of MDC's teams went on to the final round against Barry University. With a 10-point difference between them, MDC's teams took the top two slots, capturing first and second place.
"I'm very proud of my students. They are 'the cream of the cream,' " said Dr. Nicolas Massimini, assistant professor at the College of Health Sciences. Working diligently for several months, Massimini held weekly study sessions to prepare the students for the competition.
During the Brain Bowl, students were asked a wide variety of medical questions, ranging from matching symptoms with their conditions to naming the chemical compositions of microorganisms. Speed and accuracy were vital components of the competition, with the team that buzzed in first with the correct answer winning that question's points.
"The students were so well-prepared. They put in a lot of dedication, passion, time and effort to get the job well done. Above all, they represented our College with the highest standards in our community," Massimini said.
— NM
More Academics Articles