---
Academics
Sharks score victories on several fronts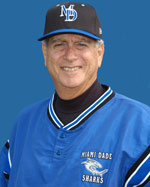 Steve Hertz
The 2009-2010 athletics season was a winning one for Miami Dade College with unprecedented success in softball and continued dominance in volleyball. The baseball team also excelled, while bidding farewell to its legendary coach, who is heading off to retirement.
For the first time in the program's history, the Lady Sharks' softball team rose to No. 1 in national rankings, winning the National Junior College Athletic Association championship by crushing the competition in the 16-team tournament held May 20-22 in St. George, Utah. (For more on the softball championship, see the front page.)
In other Sharks' sports news from this season:
• Baseball – The baseball team finished 38-13, falling just one win short of reaching the national tournament. Steve Hertz, MDC's head coach for the past 26 years, is now officially retired after 945 wins and 10 Southern Conference titles at the school. In thanking the players, assistant coaches, administrators, teachers and numerous other supporters for helping make his career a rewarding one, Hertz said, "We can only hope, that as coaches, we have been able to make a positive impact on the lives of our student athletes, not only in baseball but in their personal lives as well."
• Volleyball – MDC's volleyball team, long a powerhouse, came through again by winning a state championship and finishing fifth nationally with a 32-5 record. The Sharks' Kiko Benoit, who was named the Southeast Region Coach of the year, had several star players.
Leading the way were Sandra Montoya, named a first-team All-American and the state's Player of the Year, and Yenifer Calcano, named second-team All-American and leading the state in kills. Anne Stebner-Chala made All-State, and Joy Barquin and Joana Alvarez made All-Conference.
• Men's basketball – The team (12-14) was led by Eloy Vargas, who made first-team All-State, second-team All-American and was named Southern Conference Player of the Year. He also led the nation in rebounding. Three other Sharks were named Southern Conference all-stars: Zach Lamb, Robert Martina and Julien Sargent.
• Women's basketball – The women's basketball team (11-15) was led by Ashley Wilkes, who made All-State, and all-conference standouts Tori Stephens, Ashleigh Kelly and Dominique Collier.
But even with all MDC's great accomplishments this year, one team stood out, according to Dr. Armando Ferrer, president of the Kendall Campus where the MDC Athletic Department is based.
"The softball team's accomplishments are at the top of our list of highlights this season," Ferrer said. "But I am proud of all our students for their efforts academically and athletically."
— WV
More Academics Articles