---
Alumni News
Butler Bulldogs soar under direction of MDC alum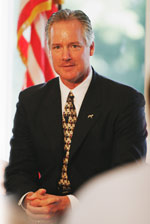 Barry Collier
For college basketball fanatics, the March playoffs were full of excitement. Millions of fans across the country filled out their brackets, hoping their prognostication skills would prove superior to those of their friends.
The school that made aficionados' brackets a success – or crushed them into a million pieces – was Butler University, whose athletic director is a Miami Dade College alumnus.
Barry Collier, who attended Miami's Palmetto High, earned an Associate in Arts degree from MDC in 1973. He starred on the MDC basketball team under Coach Stan Evans before playing for Butler, where he earned first-team All-Conference.
Collier then embarked on a coaching career that took him to five colleges in 13 years, from small schools such as Rose Hulman Institute and Seattle Central Community College to Division I universities Idaho, Oregon and Stanford.
Butler hired Collier as its head coach in 1989 and then made him athletic director in 2006 just two days after he was inducted into the school's Athletic Hall of Fame.
 On April 2, 2007, Butler coach Todd Lickliter resigned to take the job at the University of Iowa. Two days later, Collier made what turned out to be a genius decision: He promoted assistant Brad Stevens to head coach.
Stevens was just 30 years old at the time.
Three years later, Stevens' Butler Bulldogs captivated the hearts of the country, making a stunning run to the national championship game in their home city of Indianapolis.
The dream ended with a loss to national power Duke, but Collier, as the architect of the program, and Stevens, as the young coach, had helped put Butler on the sports map.
 "I am incredibly grateful this is happening," Collier told The Miami Herald at the Final Four. "I have to pinch myself every 10 minutes."
— WV
More Alumni News Articles