---
Cultural Spotlight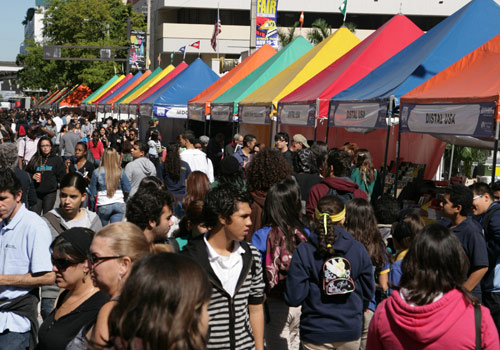 Book Fair gears up for great year
It might be perfect beach weather now, but the staff of Florida Center for the Literary Arts at Miami Dade College are in their offices, making plans for this year's Miami Book Fair International—a crown jewel of Miami's cultural scene.
The 27th edition of the nation's finest and largest literary gathering will take place Nov. 14-21 at the College's Wolfson Campus in downtown Miami. The popular Street Fair runs Nov. 19 to Nov. 21.
Building on last year's success
Each year, the Fair presents an extraordinary roster of well-known authors. Miami Book Fair 2009 was one of the most memorable gatherings to date with Elizabeth Alexander, Margaret Atwood, Isabella Rossellini, Barbara Kingsolver, Orhan Pamuk, Al Gore, Gwen Ifill and Sherman Alexie, among many others. In 2008, Salman Rushdie and Gore Vidal were just two of the hundreds who helped celebrate the Fair's 25th anniversary.
Program coordinators have already confirmed dozens of writers who will present new books at the 2010 Fair. Among them are tennis superstar Venus Williams, Harvard biologist and naturalist Edward O. Wilson, fight doctor Ferdie Pacheco, comics creator Charles Burns, NPR's All Things Considered host Michele Norris, Edwidge Danticat, Kate DiCamillo, Emilio Estefan and Jonathan Franzen.
The Fair maintains a strong commitment to literary voices of the international community, last year welcoming writers from Africa, Latin America, Europe and the Caribbean.
This year, the Fair will celebrate the bicentennial of Mexico's independence and the centennial of the Mexican revolution. "There is a lot of excitement [this year] surrounding our partnership with the Mexican government, the Consulate General of Mexico in Miami and the Mexican Cultural Institute in Miami during the Fair," said Alina Interián, executive director of the Florida Center for the Literary Arts.
Mexican culture pavilion
Plans call for a grand pavilion to showcase Mexican culture, gallery exhibits of work by Mexican artists, a rich roster of authors representing the breadth and depth of Mexican literature and a project to build a colossal spiral of books to donate to jails, the goal being more books than prisoners.
Programs will feature fair favorites, classic and new, including the Evenings With series, IberoAmerican Authors, Comix Galaxy, The Idea X-Change (special interest sessions), Student Literary Encounters, Children's Alley, The Teen Scene and the Weekend Festival of Authors.
The first Miami Book Fair International, founded by Miami Dade College and community partners, took place in 1984. Since then it has been recognized as the nation's finest literary festival. In 2001, the Fair became part of the Florida Center for the Literary Arts at Miami Dade College, a cultural and academic initiative promoting the advancement and appreciation of literature.
Visit www.miamibookfair.com for Miami Book Fair updates.
— NG
More Cultural Spotlight Articles