---
Cultural Spotlight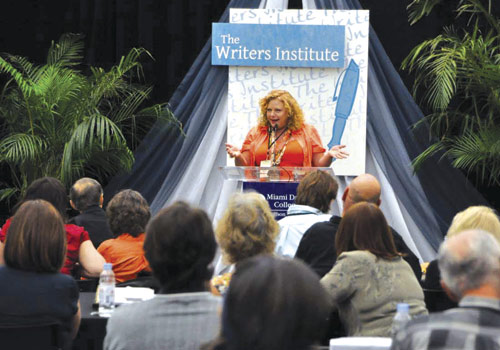 Writers Institute shines again
For the seventh year in a row, the Writers Institute proved that, despite some prevailing attitudes about Miami, the city is not only literate, it's also literary. Produced by the Florida Center for the Literary Arts at Miami Dade College, the Writers Institute, which took place recently at the Wolfson Campus, attracted more than 125 participants, drawing from Miami's writing community while also attracting attendees from states as far away as Texas and New York.
What brought them here? Plenty — including a top-notch slate of workshops and seminars, taught by prominent, nationally known authors and publishing industry professionals, including Dorothy Allison, Rick Bragg, Connie May Fowler and Samuel G. Freedman, who taught three- and four-day workshops focusing on technique and genre. There were discussions on writing scenes and effective narrative, graphic storytelling, memoir, mysteries and thrillers, poetry and narrative nonfiction, along with a track for Spanish-language writers.
Other events concentrated on the practical side of publishing, including the opportunity for one-on-one consultations with literary agents, tips on PR and getting your book noticed.
As always, the conference was characterized by its productive yet intimate atmosphere. "It's a hallmark of the Institute," said Alina Interián, executive director of the FCLA. "Where else can you sit across the table and learn about writing from accomplished authors, including Pulitzer Prize winners, National Book Award finalists or prominent literary agents? For aspiring writers, that kind of access and interaction is unique, it's inspiring, and as our participants tell us over and over, it's what sets this conference apart from others."
— NG
More Cultural Spotlight Articles