---
Features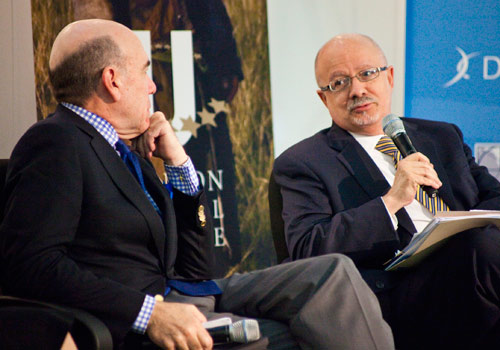 MDC President offers insights on future at Clinton Global Initiative
MDC President Dr. Eduardo J. Padrón spoke about the importance of education and broadening students' worldviews at a panel discussion held by the Clinton Global Initiative University (CGIU). Dr. Padrón was invited to participate by President Bill Clinton, who launched the CGIU in 2007 to engage the next generation of leaders by bringing together students, youth organizations and university officials in a three-day meeting.
Dr. Padrón was one of the panelists in a discussion titled "Empowering the Next Generation of Global Citizens." During a lunch meeting with presidents of American and Haitian colleges, he also discussed plans and efforts to reopen universities in Haiti following the devastating earthquake in January.
"An incredible number of (U.S.) institutions feel they're in a position to assist," Dr. Padrón told USA Today.
In addition to Dr. Padron's participation, 30 MDC students were invited to contribute their individual and group proposals during the three-day meeting. Ximena Prugue was acknowledged in an exclusive session for her project, "Giving the Green Light," which proposed replacing harmful kerosene lamps in poor villages in India. Three other students, Stephanie del Pino, Alexandra Rodríguez and Amanda Balazero, were invited to participate after their "Harvesting Hope Tilapia Food Project" helped raise $23,000 to develop a tilapia farm in Haiti that would provide a sustainable source of income for residents.
About 1,300 students from 83 countries united at the CGIU, in addition to 80 college presidents. Clinton told USA Today that it was important to bring the two groups together because educational institutions should promote a sense of service not only in the community but also throughout the world.
"They should be telling their students from the minute they walk in the door as freshmen that their institution is committed to citizen service, in their community and the city in which they're located, and the state and around the world," Clinton said.
— PUR
More Features Articles