---
Features
Walesa: To build a better future, analyze the past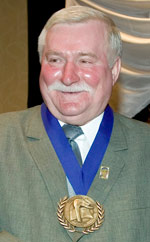 Lech Walesa
Before he became president of Poland in 1990, Lech Walesa had already won the 1983 Nobel Peace Prize for his dangerous human rights fight in the face of a communist government. His work eventually helped bring down communism in Eastern Europe.

But his dedication to ending communism did not stop with its fall in Eastern Europe.Walesa has continued to spread his message around the world, including during two visits in the past four years to Miami Dade College, where he has spoken on the future of Cuba.
In his second visit in February of this year,  which was sponsored by the Cuban American National Foundation, Walesa started his speech by asking the crowd gathered at the College's Freedom Tower to hold their praise until he finished speaking.

"I have to earn my applause," he said through an interpreter at the National Historic Landmark."And I wonder, should I earn the applause because of my past or should I earn it with my future? I think my future is better."
Walesa spoke of his past – and of his fight. By analyzing our past, we can"understand how to build the future," he said. He then told the crowd that even though it seemed impossible at the time, he and those who fought with him persisted, and eventually communism ­crumbled.
Walesa called for that persistence from his listeners. The message was only slightly different from his speech four years earlier at a College-sponsored event attended by, among others, local mayors and elected officials.
Things have been changing in Cuba in recent years, Walesa said.
Speaking about Fidel Castro, he said,"If he had some honor or courage, he would step aside." But Walesa's overall message to both audiences focused on a need for change, especially for those who were listening to Walesa speak right there and then.
"There has been no other generation that has had such a chance for peace, for development, for wealth, for freedom for other nations," he told his Freedom Tower audience."Our generation has the best chance."
— PUR
More Features Articles