---
Features - MDC Grads
Smiling away: Dominique Moreau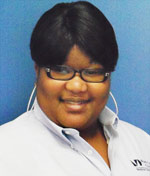 Dominique Moreau
By the sixth grade, Dominique Moreau knew exactly what she wanted to do for the rest of her life. Thanks to the Coca-Cola/MDC Health Career Academy for at-risk middle school students, Moreau discovered her passion for science and eventually dental hygiene as an ambitious student at Brownsville Middle School in Liberty City.
Later at Miami Northwestern Senior High School, she took advantage of the school's medical magnet program and volunteered at Lindsey S. Hopkins Technical Training Center.
In 2003, she enrolled in The Honors College at MDC, earning an associate in biology in just two years. From there, she attended Florida Atlantic University and earned a bachelor's degree in biological sciences. But financial realities put her dream of attending dental school on hold.
"I didn't want to settle for being a dental assistant because I wanted more patient involvement," said Moreau. "So I chose dental hygiene and returned to MDC because of the quality of the dental program and affordability."
Moreau also found time to participate in campus clubs and community service activities and to serve as vice president of the Medical Center Campus' Student Government Association.
With an associate degree in dental hygiene, Moreau is now focusing on becoming certified as a dental hygienist while she works full time in the "Community Smiles Program" at the Hopkins Center.
— TC
More Features - MDC Grads Articles