---
Features - MDC Grads
Building farms: Stephanie Del Pino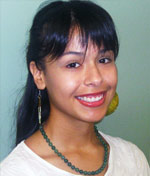 Stephanie Del Pino
Stephanie Del Pino dreams of producing documentaries about ways to fight hunger and poverty in countries in the Caribbean and Latin America.
This year she worked with other students to raise funds to build a self-sustaining tilapia farm for citizens in Haiti. The Coral Reef Senior High graduate has used her experience as a Kendall Campus Honors College student to fulfill several goals, including taking advantage of every opportunity.
It was against her mother's advice that she forged ahead to pursue a mass communications degree; hoping to one day venture into filmmaking.
"My mom didn't want me to pursue any of my creative endeavors because [in her opinion] it wasn't practical. But now with the integration of technology into the business and communications fields, it seems a bit more promising."
She believes what ultimately changed her mother's mind was the variety of resources at MDC and the new skills her daughter was learning, plus the fact that Del Pino was accepted to UCLA's prestigious film school, which she will attend this fall.
Del Pino maintained a 3.63 grade point average, won the state's top award for service in the community, helped raise more than $20,000 to eradicate poverty and joblessness in Haiti, took top place in the Phi Theta Kappa All-USA competition and traveled to Salzburg, Austria, to attend the prestigious Salzburg Seminar.
Del Pino advises students to "take time to cultivate relationships. Don't just go to class and leave. If you're involved in clubs and other projects, it could lead to so many other possibilities."
— TC
More Features - MDC Grads Articles