---
Alumni News
Soprano Found Her Calling at MDC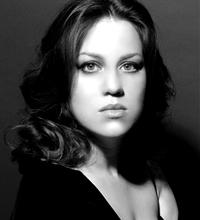 Voice lessons at MDC developed Elizabeth Caballero's talent, leading her to stellar venues including the Metropolitan Opera.
For Elizabeth Caballero, the path to becoming an opera diva began in a humble fashion, with her working as a ticket-taker at the Florida Grand Opera (FGO).
A year later, after acing her audition, she joined the FGO chorus, quickly rising to fame as an award-winning lyric soprano while completing the Young Artist Programs at FGO and at San Francisco Opera.
A native of Havana, Caballero began voice training at MDC when she was 19.
"When I entered MDC, I never imagined that one day I would be paid to have fun up on the stage, to sing and, at the same time, to help people by making them forget their problems while I am entertaining them," Caballero recently told El Nuevo Herald.
Giving command performances in critically acclaimed productions across the nation, she has earned praise from numerous publications, with the San Francisco Chronicle calling her "a powerful diva in the making" and The New York Times lauding her "thrilling balance of pearly tone, exacting technique and brazen physicality."
Although she has performed in stellar venues such as the Metropolitan Opera, Carnegie Hall, the New York City Opera, Seattle Opera and Italy's Teatro Verdi di Trieste, Caballero has never forgotten her simple beginnings in Miami.
She takes pride in being one of the 125,000 Cubans who reached the United States in 1980 via the Mariel Boatlift. Caballero was just 6 years old when she and 19 other refugees arrived on a small boat that nearly capsized en route to Miami.  
Reflecting on her meteoric rise to the top, which all started at MDC, Caballero said, "It's a dream come true."
— WV
More Alumni News Articles