---
Cultural Spotlight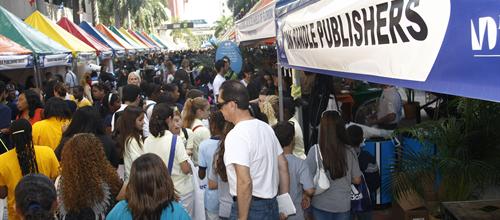 International Book Fair Outshines Itself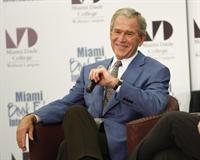 George W. Bush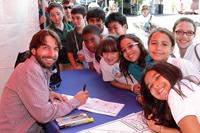 Alexis Frederick-Frost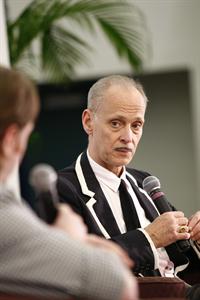 John Waters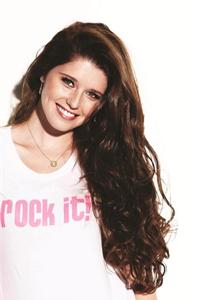 Katherine Schwarzenegger
"Whatever book a kid wants, give it to him," film legend John Waters told an enraptured audience of more than 700 people on the fourth night of the 27th annual Miami Book Fair International (MBFI).
"Waters' passion for books echoes our own," says Alina Interián, executive director of MDC's Florida Center for the Literary Arts, which produces the Book Fair and a wide range of other literary programs. "The 27th Fair was another manifestation of that passion and of our love for our community. From our Inaugural Afternoon with former U.S. President George W. Bush to the closing reading by novelist Jonathan Franzen eight days later, our goal was to bring the best and brightest in the world of letters to South Florida for people of all ages to enjoy."
Also focusing on the importance of books and reading was Pat Conroy, who spoke at one of the many Evening With events, discussing the books that shaped him and how his mother supported his writing. He hinted he is writing a follow-up to The Great Santini, which would shed further light on the character based on Conroy's father.
"Don't abandon the book" was another presenter's cri de coeur, to which MBFI's Interián responds, "We never will!" The exhortation to not favor technology over books was part of Patti Smith's acceptance speech at the 2010 National Book Awards ceremony. The rock icon and poet flew to Miami 48 hours after receiving the prize to repeat the proclamation at her reading from the winning book, Just Kids. She shared tales of her life with Robert Mapplethorpe and their years striving to become artists in New York City in the '60s and '70s. She also performed some of her songs.
Mexican Literature, Arts Shine
The spectacular lineup of authors at the fall Fair included presentations by more than 20 of Mexico's most lauded writers, including Gonzalo Celorio, Laura Esquivel, Mario Bellatín, Pedro Angel Palou, Natalia Toledo and Estela Leñero. They participated in the Fair's celebration of Mexican culture on the occasion of that country's bicentennial and the centennial of its revolution. Mexico's grand pavilion and plaza on the Book Fair grounds featured original artwork, thousands of books for sale and handicrafts, including Mexican Day of the Dead statuettes – skeletons dressed in traditional clothes, and colorful Mariachi hats and rebozos, which women use as scarves and shawls. Entertaining fairgoers were dozens of Mexican performers, including actors Odin Dupeyron and Alma Muriel; the children's theater groups Triciclo Rojo and Cornisa 20, home of the Mariachi Clowns; folkloric dancers from Ballet Mexcaltitán; and the music of Colectivo Nortec.
Plaza Mexico, adjacent to the pavilion, featured delicacies created by chefs who traveled from Mexico specifically for the MBFI, as well as the MexiKids venue where storytellers and artists led activities for children, including making alebrijes, fantastical creatures commonly made by Oaxacan craftspeople.
"It was a beautiful, rich showing of Mexican culture," Interián said. "We had the full support of the Mexican government, including visits by Mexican dignitaries and the Consul General of Mexico in Miami, Juan Miguel Gutiérrez Tinoco."
Hundreds of Thousands Flock to Fair
Weekend presentations drew hundreds of thousands of fairgoers to Miami Dade College's Wolfson Campus with the 14 author presentation venues filled to capacity each day.
Family stories of triumphing over difficulties resonated with Fair audiences as NPR correspondent Michelle Norris talked about the experiences of her family and other African Americans in the post-WWII South, and Emilio Estefan brought down the house with his story of growing up in South Florida, being an immigrant with a dream and never giving up. There was a lot of heartbreak, said Estefan, who left his mother in Cuba when he came to the United States, but he was thankful for having control over his destiny here, which was something not possible in a communist country. Salman Rushdie's reading from Luka and the Fire of Life along with Dave Eggers' presentation of Zeitoun, a nonfiction story set in New Orleans right after Katrina, were just two of the many programs that sold out at the Chapman Conference Room. Another was Megan McCain's conversation with South Florida's CBS 4 reporter Giovanni Benítez. McCain, author of Dirty Sexy Politics, revealed how hurt she felt when asked to leave the campaign trail in 2008, but she then went on to say, "I think my dad is a rock star," which elicited cheers from the audience.
Speaking with her aunt, Alina Shriver, Katherine Schwarzenegger offered a very positive message in her debut, Rock What You've Got, aimed at helping young women develop healthy self-images. Schwarzenegger urged women to set "an example by loving your body from the inside out."
The Fair regularly attracts visitors from all over the world. This fall, filmmaker Michael Moore was among the many fairgoers who brought along a personalized schedule of events printed from the Internet. A book presenter a few years past, Moore this time visited as a book lover and spectator, promising to return when the book he is working on is released.
"We have a lot to be proud of," said Mitchell Kaplan, chair of the Fair's board of directors who, along with MDC President Eduardo Padrón, is one of the founders of the Miami Book Fair International. "From our author presentations to the comics programming to Children's Alley and the work we do in area schools, the Fair is consistently great, year after year."
— Staff report
More Cultural Spotlight Articles