---
Cultural Spotlight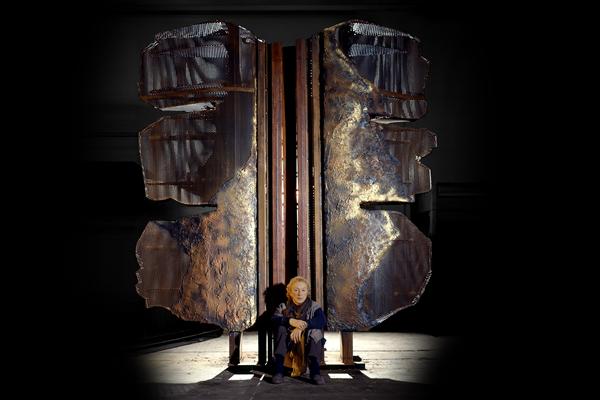 Sculptures Bring New Beauty to Campuses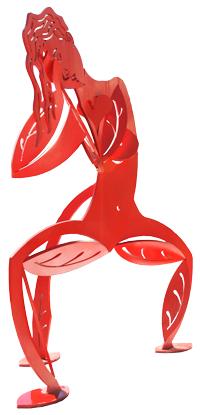 "Woman in Red" by Jorge Fernández
With impressive outdoor sculptures arriving at several campuses, Miami Dade College is expanding its already strong tradition of bringing beautiful art to public places.
MDC's Wolfson Campus has joined forces with the renowned Sculpt Miami to showcase new sculptures on the downtown campus.
Four sculptures have been installed in the recently renovated Wolfson parking lot on Biscayne Boulevard just south of MDC's historic Freedom Tower. Placed in each corner of the lot, the pieces are Passage to Hope by John Angee, All Cylinders by Mike Hansel, Shutter by John Henry and Woman in Red by Jorge Fernández. They will remain on loan until November 2011 when Sculpt Miami takes place.
A fifth work by Milan-based artist Maria Cristina Carlini, titled La Vittoria di Samotracia, has been donated to the Wolfson Campus. In addition, other monumental sculptures by Carlini are on display at Miami Dade College's Wolfson and North campuses.
Carlini's project, called Works in Passage, has previously been displayed in Rome, Paris, Madrid, Prague and Beijing, among other international cities.
Carlini's art is characterized by a subtle equilibrium of contrasts. Her sculptures are composed of a balance of materials that are strong and weak, polished and rough, and steel and organic. They also reflect the passage of time, using materials both ancient and modern.
Meanwhile, the Miami International Sculpture Park at MDC's North Campus has become the new home to 79 sculptures by world-renowned artist Alfredo Halegua. The art was donated by Halegua and his wife, Raquel. In addition, the couple also donated several drawings.
Halegua's sculptures are the largest collection of art ever donated in Miami-Dade County. Some of the artwork includes The Dancer, which features a figure of a person crouched with one leg over the other, ready to spring up and dance if given life; Penelope, a shimmering golden sculpture which embodies a woman; and Broken Column, which is a single structure fragmented into pieces but standing upright.
— WV
More Cultural Spotlight Articles