---
Making Their Mark
Honors College Helped Him Help Others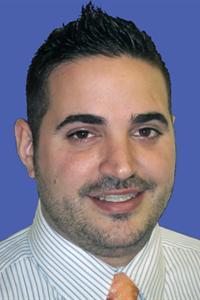 Alex Almanza
A key person to know for anyone aspiring to work in the medical profession is Alex Almanza, who was part of the first class of students when MDC's Honors College was launched in 2002.
A recruiter for the University of Miami's medical school and hospital system, Almanza hired 950 employees last year alone.
"It's very busy," Almanza said of his job. "But I've been doing human resources work for five years, and I feel very natural doing it. I am personally hiring almost 90 people a month, ranging from clerical to research on the school side, and from nursing to X-ray technicians on the hospital side."
Almanza said his two years at Miami Dade College helped prepare him for his future endeavors, which led to him completing a master's degree at Nova Southeastern University.
"The way the Honors College program is set up at MDC is unique," Almanza said. "The professors are experts in their fields, and the small classroom sizes gave us great access to them. Plus, we were exposed to lots of different things outside the classroom, such as the 10-day leadership seminar in Austria."
And learning to be a great leader is exactly what Almanza did at Miami Dade College.
— WV
More Making Their Mark Articles