---
Making Their Mark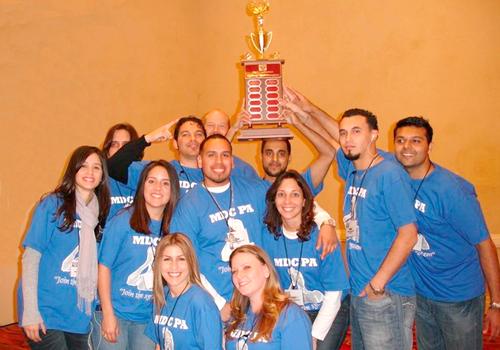 MDC Physician Assistant Students Win Again
For the brainiacs at MDC, there is no need to ask the entire question. They know the answer before the host of the Florida Academy of Physician Assistants' Brain Bowl has finished asking.
Perhaps that explains why MDC's students have won the game-show-type competition four years in a row, beating teams from master's programs at the University of Florida, Nova Southeastern, Barry and others. The first couple of victories might have seemed like a great winning streak, but by the fourth year, it has now become apparent that MDC's dominance is due to great training, not luck.
MDC associate professor Nicolas Massimini, who teaches 90 students who are eligible to compete, enjoys the challenge.
"I love to teach," he said. "My goal is to awaken the driving force in each one of my students."
During the Brain Bowl, students are asked a variety of medical questions, ranging from naming the chemical composition of microorganisms to matching symptoms to conditions.
Last year, MDC beat 25 other teams. In the final round, MDC teams finished first and second, and Barry was third.
In the competition, speed and accuracy are vital. Students have only 10 seconds to buzz in with the correct answer. But Massimini said his students have no trouble quickly responding.
"In order to be fast, you have to have extensive knowledge of the material," he said. "My students read the question, and after two words, they already know the answer. It's beautiful and rewarding."
— WV
More Making Their Mark Articles