---
Making Their Mark
Mastering Latin American Modernism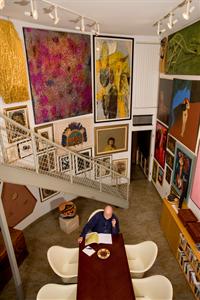 Artwork from the collection of MDC Professor Ricardo Pau-Llosa fills his home with beauty, as shown in this photo by Eric Nisly, of the Snite Museum of Art at the University of Notre Dame.
When he's not in the classroom sharing his love of literature with students, MDC English Professor Ricardo Pau-Llosa shares his exceptional knowledge of Latin American Modernist art with the world.
An acclaimed author and Pulitzer Prize-nominated poet, Pau-Llosa is also an internationally acclaimed art critic and collector. Recently honored by U.S. Congresswoman and MDC alumna Ileana Ros-Lehtinen at a ceremony at the House of Representatives in Washington, D.C., Pau-Llosa has also received praise throughout the years for his books of essays and poetry and for the exhibitions of his art collection both in the United States and abroad.
In the fall, the Snite Museum of Art at the University of Notre Dame featured his art collection in a major exhibition. Parallel Currents: Highlights of the Ricardo Pau-Llosa Collection of Latin American Art showcased 53 paintings and sculptures, and two videos, collected over the course of 36 years. The exhibition was accompanied by a full-color book of essays and analytical musings in which Pau-Llosa chronicles his emergence as a scholar of Latin American art and explains the trope-based model he created in order to describe what sets the region's Modernists apart from European and North American artists of the same period.
He also examines the evolution of Miami's Latin American art scene and explores, on a more personal note, the vital role that art played in helping his exile family adapt to life in the United States. The Cuban-born Pau-Llosa also recently published The Miami of the Poet, his seventh book and the first in a series that unites the work of poets and photographers in order to capture the spirit of different cities. In it, Pau-Llosa's South Florida-inspired poems are paired with photographs by James Gersing.
— HP
More Making Their Mark Articles