---
Alumni News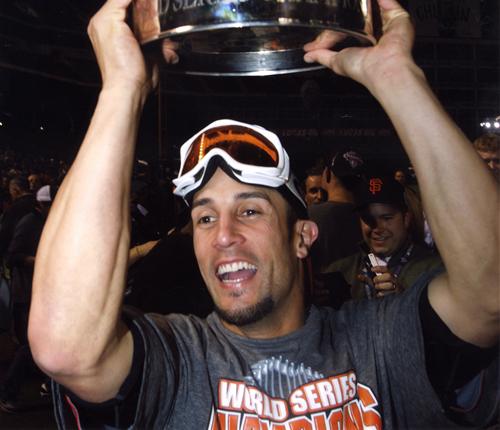 Baseball Giant's Success Began at MDC
World Series hero and former Miami Dade College star Andrés Torres always thought he would be big at something. Now, the center fielder is a Giant in baseball, and his life is being made into a bilingual film called Gigante.
The documentary, which is set for a July release, is being produced and directed by Anthony "Chusy" Haney-Jardine of Plan A Films, a small production company that specializes in movies that "inspire."
Torres' story is certainly inspiring. The 5-foot-10-inch, 185-pounder overcame Attention Deficit Hyperactivity Disorder and endured 12 years in the minor leagues before becoming a standout in a sport he wasn't even passionate about as a youth.
Big Dreams
Torres, 33, grew up poor in Aguada, Puerto Rico, where he worked as a farmhand and dreamed of Olympic track glory – even though he spent many of his formative years without shoes.
Torres, a sprinter, also played baseball at Puerto Rico's Dr. González High School. And it was in baseball, at a 1996 tryout camp, where he was discovered.
The tryout led to a scholarship at MDC, where he credits Coach Steve Hertz for "teaching me the game." Hertz taught Torres how to hit from the left side, making him a switch-hitter and ensuring his speed would be even more of a weapon.
"It's rare when a kid starts hitting from the other side of the plate at 18 years old and has success," Hertz said, "but he did it."
Patient Persistence
Fast forward to 2010, when Torres helped the San Francisco Giants win their first World Series title since 1954. The Giants' drought parallels the career of Torres, who has waited a long time to establish himself as a big-leaguer and provide for his family – wife, Soannie, and son, Diego Andrés, 6.
Looking back at how his rise to the top all started, Torres said, "I am thankful for my teachers, coaches, teammates and everyone else who helped me at Miami Dade College."
Torres has spent much of the offseason being filmed for the documentary, with Haney-Jardine's crew following him to San Francisco, Miami and Puerto Rico. When Haney-Jardine pitched the project to Torres, he wrote him the following:
"Your story is my story. It's the story of many people. It's the story of belief, hope, discipline and sacrifice." Sounds like it will eventually be a Giant hit, just like Torres.
— WV
More Alumni News Articles