---
Cultural Spotlight
International Conference Shines Spotlight on Prometeo Theatre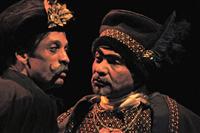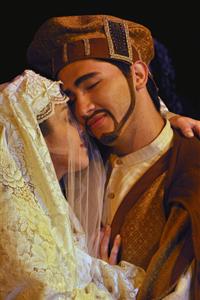 MDC's Prometeo Theatre performs a Lope de Vega classic in Quito, Ecuador.
Miami Dade College's Teatro Prometeo, under the cultural umbrella of the Florida Center for the Literary Arts (FCLA), is currently touring their recent production of Lope de Vega's Fuenteovejuna at the Fifth Annual Conference of Theatre Schools and Educators, which is being held in Quito, Ecuador.
Theater schools from all over the world are invited to apply, and only one per country is selected. Prometeo Theatre is representing MDC and, more importantly, the United States as well, at this international conference.
"It's a tremendous experience for our students," said Joann María Yarrow, Prometeo Theatre's artistic director.
Prometeo Theatre was selected as the only school to bring all its actors along with faculty and technical and artistic directors to this prestigious conference held at Universidad Central del Ecuador in Quito.
"We are very grateful for being allowed such an amazing opportunity to take part in this conference as both participants and performers, and we thank MDC and FCLA for making it all possible," Yarrow added.
The conference's objective is to highlight each institute's pedagogical training through student productions and master workshops taught by faculty from the participating schools. Yarrow, who is being featured as a master speaker, will give a three-day workshop at the conference.
This student adaptation of the Spanish classic Fuenteovejuna, directed by Lilliam Vega, premiered at MDC in December and is performed by the students in Prometeo's Professional Training Program in Theatre Arts.
— HP
More Cultural Spotlight Articles