---
Features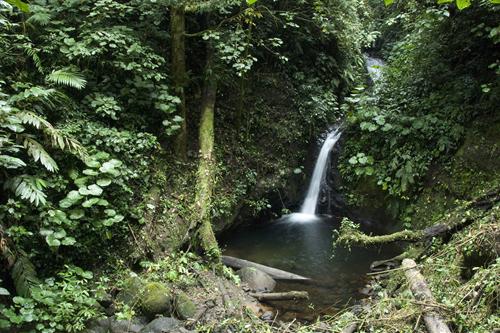 Costa Rica Offers Lessons on Earth's Wonders
For the first time, Miami Dade College is offering an "Earth Literacy and Sustainability" course this spring that includes a nine-day field experience in Costa Rica.
The three-credit elective course, which is for first-year Honors College students, offers in-depth exploration of the principles of Earth Literacy. With only 24 spaces available for students, the application process was highly competitive.
"We had twice as many students apply as we had spaces," said Professor Chris Migliaccio, who is teaching the March-to-May class along with Professor Brad Stocker. "We selected students on the basis of their interest in global sustainability, grade-point averages, essays and faculty recommendations."
Exploring Connections
Sponsored by MDC's Earth Ethics Institute and The Honors College, the course's mission is for students to gain a better understanding of the interconnected role that science, education, culture and cosmology have in the natural world.
Before heading to Costa Rica, students will gather at MDC's Wolfson Campus for three evening classes designed to build community, prepare students for study abroad and provide an introduction to the principles of Earth Literacy.
In Costa Rica, students will stay and study at the University of Georgia's San Luis campus, which has an extensive library, a state-of-the-art computer center, and indoor and outdoor classrooms. The 170-acre site, located 3,700 feet above sea level, is 62 percent protected forest reserve, 30 percent sustainable farm land and 8 percent research, housing and recreation area.
Sustainable Models
Students will be transported to various points of interest and study, including the Monteverde Cloud Forest Reserve and Poas Volcano National Park, as well as a coffee farm and a processing facility.
Students, who will engage with fair-trade farmers, co-op leaders and ecological researchers, will be asked to keep a journal of their reflections, participate in a local service-learning project and design an "Action Plan" for promoting sustainability in their communities.
"This will be hands-on learning," said Migliaccio, who went to Costa Rica last year with Stocker to prepare the course. "Students will be able to show what they know and do what they know."
— WV
More Features Articles