---
Features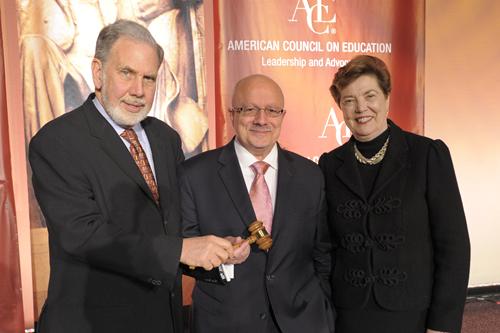 MDC President to Chair American Council on Education
Miami Dade College President Dr. Eduardo J. Padrón was recently elected chair of the American Council on Education's Board of Directors.
ACE is the major coordinating body for all of the nation's institutions of higher learning, representing more than 1,600 college and university presidents. ACE provides leadership on issues that affect higher education, influencing public policy through its advocacy.
"My selection as chair by my colleagues is an honor," Dr. Padrón said. "This appointment comes at a time when there is much to do regarding higher education in America. Our colleges and universities are essential contributors to a strong economic recovery."
Dr. Padrón, who has served as MDC's president since 1995, is the leader of the nation's largest institution of higher learning, serving more than 174,000 students. He is nationally known for his advocacy of innovative teaching and learning strategies and his focus on support for student achievement.
Dr. Padrón's work has been hailed by numerous publications. For example, he was listed among the "Top 10 Movers and Shakers" by Hispanic Outlook magazine and was selected as the "2010 Floridian of the Year" by Florida Trend. In 2009, Time magazine selected him as one of the nation's "10 Best College Presidents."
Dr. Padrón's leadership has been sought by five of our nation's presidents, including Barack Obama, who recently appointed him to chair the White House Initiative on Educational Excellence for Hispanic Americans. Previously, President George W. Bush had appointed him to the National Institute for Literacy's advisory board.
As the new chairman, Dr. Padrón succeeds Dr. John Sexton, president of New York University. The announcement was made in March at ACE's 93rd annual meeting in Washington, D.C.
More Features Articles