---
Cultural Spotlight
Dancers Teach Lessons About Nature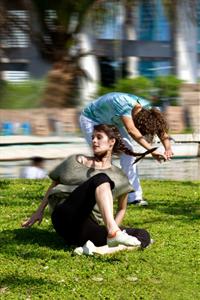 NWSA dance students perform near the Miami River to raise awareness about the environmental power and fragility of the waterway.
Statewide Collaboration Focuses on Power and Fragility of Waterways
In a project led by the New World School of the Arts (NWSA) at Miami Dade College, hundreds of dancers from Miami to Tampa to Jacksonville simultaneously performed alongside a unique Florida waterway to bring attention to the environmental power and fragility of this precious natural resource. The Florida Waterways Dance Project brought together artists, including musicians and visual artists, from 24 arts schools and dance companies at nine different locations across the state.
Top Performers
"These young artists represent the best of our arts programs," said Dale Andree, dance faculty member at NWSA, who conceived the collaboration earlier this year. "By bringing their talents together, they hope to bring to the attention of the public the essential need of a healthy society for clean water and inspired art." With awareness about nature being one of the 10 key student learning outcomes of Miami Dade College, this performance brought environmental concerns to the forefront. Andree directed the Miami performance, which itself was a four-school collaboration with 45 students from elementary school through college. The dancers were accompanied by members from the NWSA choir.
River Dance
The dancers performed at José Martí Park on the Miami River, a 5.5 mile waterway that originates in the Everglades and runs through the city of Miami. While the river is now being revitalized by a government-appointed commission, it has had a long history of abuse and neglect. Live video streaming gave a wide range of audiences the opportunity to experience the project firsthand and allowed them to see how each school interpreted common movement themes, as well as the variances based on their geographic location.
— PUR
More Cultural Spotlight Articles