---
Features
Harvard, MDC Team Up to Train Leaders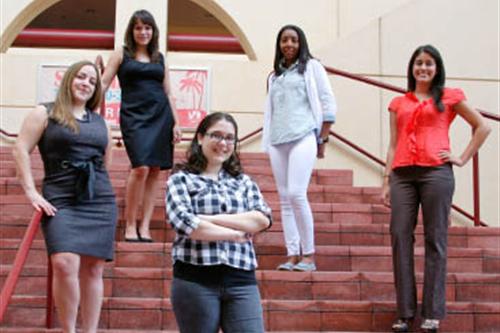 From left, MDC students Jessica Giraldo, Laura Barrera, Marina Marchena, Vanessa Chalmers and Jessenia Guerra
Harvard, a magical name in education that ranks among the oldest and most prestigious universities in the world, has joined forces with Miami Dade College, the nation's largest institution of higher learning, in a partnership that will develop new Latino leaders. Each year, a group of MDC students will travel to Harvard to attend the Latino Leadership Initiative to learn skills that will help them academically and professionally. These MDC students, with Harvard's support, will then implement in Florida the leadership skills they learn from acclaimed professors of Harvard's John F. Kennedy School of Government.
Several discussion sessions will also provide students the opportunity to interact with major national leaders, who will offer advice and discuss how they became successful.
This summer, six MDC students will participate in the Latino Leadership Initiative. While maintaining high GPAs, all six have balanced their MDC studies with a devotion to helping others. They are active volunteers, having logged hundreds of hours of community service, both here in South Florida and abroad.
This year's MDC participants are:
Marina Marchena, an art therapy major who mentors at-risk middle school children
Laura Barrera, a business administration major who helps educate children in Nicaragua through the Tengo Un Sueño program
Vanessa Chalmers, a political science major who has helped raise funds to build sustainable tilapia farms in Haiti through the organization "Food for the Poor"
Luis Sánchez, an international relations major who has interned with U.S. Senator Bill Nelson and Elettronika America, headquartered in Italy
Jessenia Guerra, a nursing major who mentors children at Regis House
Jessica Giraldo, a paralegal studies major who works with domestic violence awareness initiatives
This is just a small sample of the many volunteer activities of each of these outstanding young leaders. Each is also involved in a variety of other volunteer organizations.
With the Hispanic population in the U.S. expected to double in the next 40 years, it is crucial that young leaders are developed. Experts believe Hispanics will comprise more than 30 percent of the U.S. population by 2050.
"This type of seminar is a great chance for young Hispanic students," said Marchena, 21, a native of Cuba. "In the end, this networking gives us the tools to transform the world around us in positive ways."
More Features Articles