---
Features
MDC Develops Next Generation of Leaders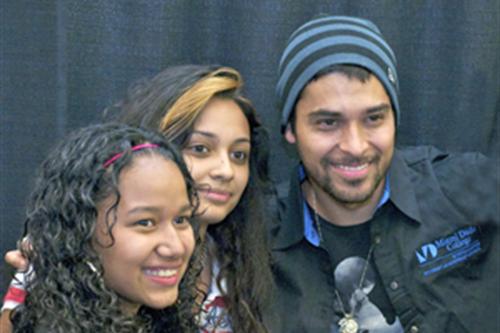 Actor Wilmer Valderrama spoke recently to students at the Ready to Lead program at MDC.
Taking a leadership role at Miami Dade College in helping Hispanic high school students plan for and achieve a college education, actor and role model Wilmer Valderrama and Univision anchor Satcha Pretto recently participated in the Congressional Hispanic Caucus Institute's (CHCI) college readiness program, called "Ready to Lead" (R2L).
Miami Dade College's North Campus hosted the event for the third year in a row. Since MDC graduates the highest number of Hispanics in the nation, the College is a natural host for the seminar.
Investment in Future
"With each year of presenting the Ready to Lead session, North Campus and the Congressional Hispanic Caucus Institute have strengthened the resolve toward providing early college planning and leadership enrichment for our community's youth," said North Campus President Dr. José A. Vicente. "It's an investment of which we are truly proud."
Valderrama, the official spokesman for R2L, offered the closing remarks for the day, while Pretto participated in the "Mentoring Power Hour."
Financial Wisdom
Students also took part in Visa's "Financial Soccer," an educational video game that uses the world's most popular sport as a way to make money matters fun, engaging and informative.
More than 250 local high school students participated in the seminar, receiving training on leadership development and information on how to finance their future college education.
Since its inception in 2007, CHCI has assisted and empowered more than 2,000 high school students. The mission of R2L is to motivate students to complete high school, achieve success in college and in their careers and also give back to their communities by serving as mentors for the next generation.
— NM
More Features Articles