---
Making Their Mark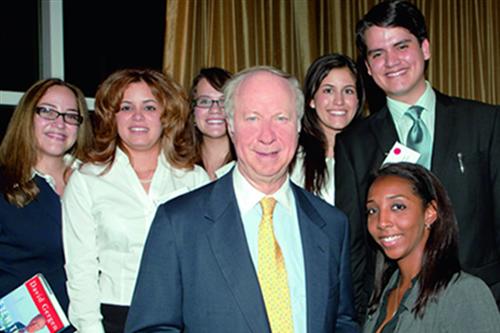 MDC Joins Harvard to Inspire Young Latino Leaders
Inspired by the exemplary role that Miami Dade College is playing nationwide in the creation of young Latino leaders, Harvard University recently invited six outstanding MDC students to attend the prestigious Latino Leadership Initiative held at Harvard.
The intensive symposium was taught by Harvard professors, members of Harvard's renowned John F. Kennedy School of Government and distinguished community leaders. While the Harvard professors learned lessons from MDC's unique approach to developing the next generation of Latino leaders, the MDC students learned ways to continue building their self-awareness and already exceptional talents for public speaking, negotiation and decision-making. Leading the Initiative is Harvard professor
David Gergen, a CNN senior political analyst who has also been an advisor to four presidents.
"The experience has been life-changing," said MDC student Jessica Giraldo. "It was inspirational, motivational, empowering, exhausting and absolutely liberating."
The other students benefiting from this partnership between MDC and Harvard were Laura Barrera, Vanessa Chalmers, Luis Sánchez, Jessenia Guerra and Anabetsy Rivero.
Elevating Others
Challenged to become "agents of change," the MDC students are now back in Miami and plan to champion the noble cause of increasing access to higher education.
"Our group project is called 305 Rise," Giraldo said. "We will be targeting an underprivileged 'D' or 'F' high school in Miami where we will work with administrators to identify strong student leaders within the school."
Through leadership training and mentoring, 305 Rise will take the freshman class through a mock college-application process, including test-taking, collecting recommendation letters, writing essays and completing financial aid forms.
"We're taking the big idea of developing leaders and making it tangible," Giraldo explained.
A New Mission
Before the Latino Leadership Initiative, Giraldo was majoring in paralegal studies and planned to get a bachelor's degree and then begin working full time in her field.
"I thought I had it all figured out," she said.
Now, she has decided to follow her passion for writing and switch her major to communications.
Grateful for the generous nature of the people she met at Harvard, she plans to dedicate two years to Teach For America. The nonprofit organization enlists promising future leaders to teach in low-income communities.
"Harvard transformed me personally and academically," she said. "My time in the Latino Leadership Initiative has given me a higher purpose."
More Making Their Mark Articles