---
Around Campus
Koubek Center Now Part of MDC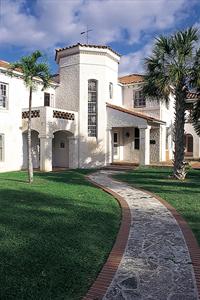 The historic John J. Koubek Mansion and Gardens is in the heart of Little Havana.
University of Miami President Donna E. Shalala and MDC President Dr. Eduardo J. Padrón recently announced the transfer of ownership of the historic John J. Koubek Mansion and Gardens in the heart of Little Havana from UM to MDC. The facility comes with a $6 million endowment.
For three decades, the Koubek Center served as a satellite campus for the University of Miami. In the early 1960s, when the first Cuban refugees started arriving in Miami, the Center helped doctors, engineers, lawyers and other professionals prepare for their respective Board Exams.
Since that time, the Center and its gardens have been the meeting place for Cuban and Latin American cultural and political groups, honoring the wishes of Austrian businessman John J. Koubek, who donated the mansion to UM under the condition that it serve the community.
The Koubek Center is located just three blocks from MDC's InterAmerican Campus. MDC plans to use it to expand its cultural and educational reach in the community. MDC already successfully manages the historic Freedom Tower, a national landmark in Downtown Miami, and the Tower Theater in Little Havana, which similarly have cultural programming interests.
More Around Campus Articles