---
Cultural Spotlight
Inaugural Class Gets Cooking at MCI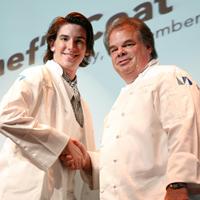 MDC's Miami Culinary Institute welcomed more than 100 students this semester for its new culinary degree program.
Local Gastronomes Enjoy Culinarium Enthusiast Learning Series
The inaugural class at MDC's Miami Culinary Institute (MCI) recently received chef's coats at a special ceremony at Wolfson Campus.
Aiming for future starring roles in Miami's sizzling culinary scene, more than 100 students are now working toward an Associate in Science Degree in Culinary Arts Management.
Students enrolling in the 64-credit program will be trained for careers as prep, line, pantry and banquet cooks; sous chefs; kitchen managers; and food and beverage managers. MCI's diverse student body includes students hailing from Egypt, Guyana, Uruguay, Colombia, Jamaica and Trinidad and Tobago, among other countries.
The Perfect Meeting Point
For anyone who is passionate about the preparation and enjoyment of exceptional cuisine, MCI offers a savory alternative with quality food and wine programs in its Culinarium Enthusiast Learning Series.
Participants are able to partake in entertaining and educational demonstrations by some of the world's best and most innovative chefs, sommeliers and beverage producers.
Mastering the Culinary Arts
Focusing on several areas – including culinary arts, baking, pastry, wine, sustainability, and health and wellness – these dynamic, hands-on classes take place at the Institute's state-of-the-art food and wine theater.
Living up to their reputation as innovative thinkers, the professionals at MCI also are heating up social life in Downtown Miami with the introduction of a Culinary Singles Night, where participants are given the opportunity to connect with others who share their passion for gourmet  food and fine wine.
— HP
More Cultural Spotlight Articles