---
Cultural Spotlight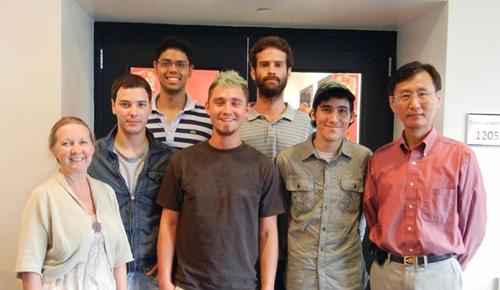 Five MDC Students Win Scholarships to China
For their mastery of the complex language of Mandarin, five Miami Dade College students recently were awarded one-year Confucius Institute Scholarships by the Hanban/Confucius Institute headquartered in Beijing.
The MDC students were winners in a worldwide competition where they demonstrated their exceptional skills on a test known as the Hanyu Shuinping Kaoshi (HSK), or Standard Chinese Language Proficiency Test.
Four of the awards went to Wolfson Campus students Sean O'Connell, Dayvis Cortes, Nicolás Lucas Gallo, and Alejandro Gustavo Méndez; the other MDC winner was Yaacov Moshe from InterAmerican Campus.
Grateful for the lessons learned at the College, the scholarship winners praised MDC instructors Jing (Iris) Zhang and Wensheng (Kevin) Yang.
The full scholarships include tuition, room and board, and living expenses for the 2011-2012 academic year. While attending Xuzhou Normal University, MDC's sister university in China, the MDC scholarship winners will study the Mandarin language along with Chinese culture, history, traditions and related subjects.
Also bringing Chinese culture closer to South Florida, MDC's Confucius Institute recently held its annual Harvest Moon Festival at Wolfson Campus.
A plethora of exotic sights, sounds, flavors and art forms came to life as this ancient festivity was re-enacted in celebration of the autumnal equinox.
Among the many treats offered at the festival were mooncakes, a sweet confection so much a part of this holiday that it is also often referred to as the Mooncake Festival.
— HP
More Cultural Spotlight Articles