---
Academics
MDC High School Produces Exceptional Students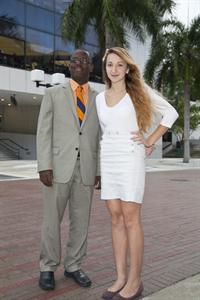 Wendy Edmond, left, and Anastassia Bobokalonova are just two of the hundreds of exceptional students who have studied at the School for Advanced Studies at MDC.
When high school senior Anastassia Bobokalonova graduates this spring, she'll already have 81 college credits under her belt and likely will have her choice between attending Stanford University and the Massachusetts Institute of Technology (MIT).
She is just one of more than 500 outstanding students who attend the School for Advanced Studies (SAS) at Miami Dade College, a dual-enrollment high school and combined effort between Miami Dade College and Miami-Dade County Public Schools.
This nationally acclaimed school sends 100 percent of its students on to four-year institutions. More than half of them leave with an associate degree already in hand, and 97 percent graduate from SAS with honors.
Excellence is the Norm
"Here, graduating with honors is the norm, not the exception," said SAS Principal Dr. Omar Monteagudo. "The new buzz word in Florida in education is 'college readiness,' and we are pleased to say 100 percent of our students are prepared for college when they graduate."
SAS students, who can study at four of MDC's  seven campuses, earned more than $12.5 million in scholarships in 2011, a nearly 20 percent increase over the $10.4 million awarded the year before. For academically talented students like Bobokalonova, SAS offers the opportunity for educational acceleration and enrichment.
"When I heard about SAS, there was no choice – I had to come here," she said. "We spend the same amount of time in the classroom as other high school students, but we graduate with so much more."
Outperforming National Averages
Students in 11th and 12th grades take a rigorous but stimulating mix of Advanced Placement (AP)
and MDC classes. The school has a higher percentage of AP Scholars than any other in the district, and SAT test scores well above district, state and national averages.
"The main thing I love about SAS is the variety of courses we can take, as well as the quality," said Bobokalonova, who plans to study biotechnology in college. SAS is recognized across the country for its focus on studies in the "STEM" fields: science, technology, engineering and mathematics.
SAS alumni Wendy Edmond, a Gates Millennium Scholar, has gone on to study nursing at the University of Miami, with plans to pursue a master's degree in public health. He is one of only two students in the program's 50-year history to jump right into the core nursing program without having to take certain prerequisities due to his exceptional academic record and coursework at SAS.
SAS frequently sends graduates on to the nation's most distinguished institutions, including Harvard University, Yale University, Columbia University, Duke University, Dartmouth College and Northwestern University, to name just a few.
Program Accomplishments
The School for Advanced Studies at Miami Dade Colleges is one of the nation's leading schools and boasts exceptional student achievement. Its successes include:
100 percent graduation rate
100 percent post-secondary transition
Ranked the best public high school in Miami-Dade County and No. 28 in the country by Newsweek magazine
Ranked No. 27 nationwide by The Washington Post
Highest percentage of students attaining a 3 or higher on the Science FCAT in Miami-Dade County
Highest SAT average in critical reading, mathematics and writing in the county
SAT average tops district, state and national averages
94 percent Bright Futures Scholarship recipients
97 percent of Class of 2011 graduated with honors
$12.5 million in scholarships awarded to 2011 graduates
Higher percentage of AP Scholars, AP Scholars with Honor and AP Scholars with Distinction than any other high school in the Miami-Dade County public school district
— AMS
More Academics Articles