---
Academics
Playing to an Advantage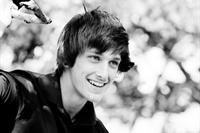 Dual-enrollment student Julian Harris won a scholarship for a five-week summer music program at Berklee College of Music. Below, Harris performs in a fall concert at MDC.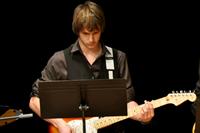 The dual-enrollment program at Miami Dade College already is helping one young musician get a leg up on his dreams.
Guitarist Julian Harris aspires to study jazz at the prestigious Berklee College of Music in Boston. The 17-year-old high school senior is taking a positive step in that direction as a dual enrollee at MDC, where he earns both high school and college credits.
"Miami Dade College is one of only a few colleges in the country with an articulation agreement with Berklee," said Professor Rodester Brandon, chair of MDC's Music, Theater and Dance Department. "MDC students are looked on favorably because of the quality of our curriculum. We have a very comprehensive program."
Harris got a taste of what it would be like to study at Berklee full time after winning a national scholarship to attend the school's five-week summer music program. Back at MDC, he appreciates his classes, including music theory and piano.
"I'm learning something that I love and something that's a necessary skill for me to function in the professional music world," he said.
Harris also welcomes the chance to perform with MDC students. The College's ensembles have traveled throughout the United States as well as Europe, South America and the Caribbean.
— Staff Report
More Academics Articles