---
Academics
Exemplary Journeys to Success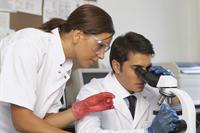 MDC is making inroads for minority students to enter STEM fields.
Miami Dade College continues to open doors for minority students by exposing them to opportunities in the high-paying, in-demand fields of science, technology, engineering and mathematics (STEM). To help accomplish this goal, Miami Dade College recently hosted prominent Hispanic leaders from the U.S. Department of Agriculture (USDA), the National Aeronautics and Space Administration (NASA) and the Environmental Protection Agency (EPA) to emphasize career and internship opportunities for students majoring in these disciplines.
National Leaders
The presenters included USDA horticulturist Dr. Tomás Ayala-Silva, who heads the National Germplasm Repository at the Agricultural Research Service; NASA Kennedy Space Center Aerospace Engineer Liliana P. Villarreal; and Jacqueline Moya, an environmental engineer at the EPA's Office of Research and Development.
More than 90 MDC students heard the speakers' inspiring life stories. Through live streaming on the Internet, another 150 students from the University of Puerto Rico at Río Piedras and Mayagüez and from Interamerican University of Puerto Rico at San Germán were able to view the presentations and text questions for the panelists.
Far-Reaching Lessons
"The students heard from leading Hispanics who have been successful in the STEM fields and the struggles they went through in terms of language barriers, cultural differences, moving from their homeland to the U.S., and how they were perceived, in many instances, as incapable," said Dr. Efraín J. Venezuela, North Campus associate dean of academic affairs. "They were able to demonstrate to the students how they overcame those obstacles, applied for internships and scholarships, obtained degrees, and then secured rewarding and challenging jobs in their fields."
— AMS
More Academics Articles