---
Academics
Tuyo's Popularity Bolsters Culinary Program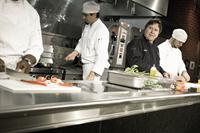 Tuyo restaurant builds MDC scholarship funds and supports programs at the College's new Miami Culinary Institute.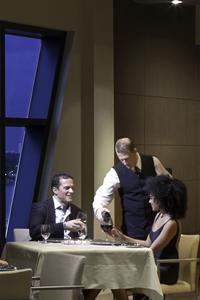 Movers and shakers continue to flock to Tuyo, the gourmet restaurant atop MDC's new Miami Culinary Institute (MCI).
Launched in the fall, the popular endeavor is providing an innovative source of funding to the College, with all surplus revenue supporting MCI programs and students.
World-Class Instruction
"In addition to expanding student scholarships, Tuyo enables us to keep our culinary arts tuition as low as possible so as many people as possible have the opportunity to afford an exceptional culinary education," MCI Director John Richards said. "It also helps enhance our ability to attract the best culinary talent to come here and educate our students and community."
This unique funding model was the design of MDC President Dr. Eduardo J. Padrón, who saw it as a pioneering solution to help offset reduced state funding to higher education institutions across Florida.
Heartbeat of the City
"Rather than setting up a faculty club in this space, Dr. Padrón had the vision to create a world-class restaurant," Richards said. "To the community, it's also a statement that Miami Dade College has once again established something really special at Wolfson Campus to continue bringing life, light and energy into this important area of the city."
While bringing exuberance and refined culinary arts to the community, the restaurant gives students a real-world example of one of the best fine-dining operations in the country. MCI's top students will be considered for positions at Tuyo, and a handful already have been selected, Richards said. Tuyo also boasts of a growing catering operation that is student-supported as well.
"What we're doing here at MCI is so much more than just teaching students how to cook," Richards said.
— AMS
More Academics Articles