---
Alumni News
A Doctor in the Making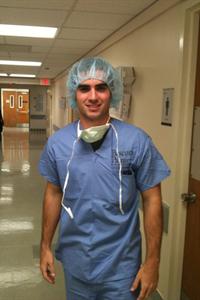 MDC Honors College student Dayron León shadows doctors at the prestigious Bascom Palmer Eye Institute.
When Dayron León first came to the United States from Cuba at the age of 12, he faced a world of uncertainties. Under the wings of Miami Dade College's Honors College and thanks to his own determination and hard work, the 19-year-old sophomore is now building his own American dream.
Steadfast Determination
Propelled by a rigorous work ethic, León employs a driven approach to learning. "I'm really focused," said León. "I know my goals, and I'm determined to reach them." The biology major maintains a 4.0 GPA at The Honors College at InterAmerican Campus while working at Miami's nationally renowned Bascom Palmer Eye Institute.
By shadowing doctors and assisting with research, León has gotten a rare glimpse into the medical world early in his career. "I get to go to the clinic, see the patients with the doctors and go into the operating room," said León, who began volunteering in Bascom Palmer's research lab after learning from a friend that they needed personnel. The doctor sponsoring their research then opened more doors for León, allowing him to assist in other areas of the Institute, too.
A Bright Future
After MDC, León plans to go on to medical school – aiming for Johns Hopkins University or Amherst College – to become a neurologist or neurosurgeon.
León praises The Honors College at MDC for nurturing and channeling his ambitions. "InterAmerican Campus has been extremely helpful to me," said León. "It's a small community and students are really involved with each other. Honors College directors Monica Padrón and Jennifer Bravo have a really good connection with students and that reflects in my grades."
— MR
More Alumni News Articles