---
Cultural Spotlight
Ballet Brings Picasso's Muses to Life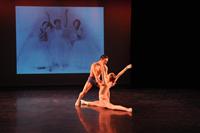 NWSA students Kira Alvarado and Johan Rivera peform a duet as Picasso and one of his muses.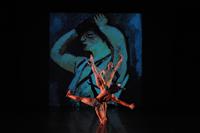 NWSA students Rachel Martin and Jeffrey Docimo perform a duet as Picasso and one of his muses.
An innovative example of the creativity that abounds at MDC was evident in the original ballet production of The Women of Picasso, celebrating the 130th anniversary of Pablo Picasso's birth.
Performed by dancers in the College Dance Division of the New World School of the Arts (NWSA), this dramatic ballet chronicled the life of the world-renowned Spanish artist through nine women who had a significant impact on him, starting with artist/model Fernande Olivier, his first love interest after settling in Paris in 1904, and culminating with Jacqueline Roque, who became Picasso's second wife when he was 79.
Collaborative Student Work
Students in NWSA's visual arts department designed and then created the masks and costumes that added to the ballet's powerful effect. Visual Arts Dean Maggy Cuesta contributed the concept for the work.
Choreographed by Peter London, who teaches in NWSA's College Dance Division, the ballet is loosely based on memoirs and biographies and shows how the different personalities of these women influenced Picasso's work.
Subtle Tones
London's choreography interpreted the complex and sometimes tumultuous emotions that accompanied each relationship.
"With a piece like this, I always think of the movies," London said. "In cinema, there's a story to be told, and it's done through words. I instead tell stories through movement."
The ballet, presented as part of Miami Dade College's popular and event-packed Hispanic Heritage Month, was attended by representatives from the Consulate of Spain, which sponsored a post-performance reception.
— AMS
More Cultural Spotlight Articles