---
Features
305 Rise Answers the Call for Excellence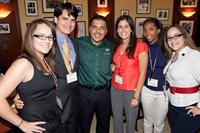 MDC's 305 Rise team recently met with José Hernández,third from left, the U.S.'s first Mexican-American astronaut. The team includes, from left, Laura Barrera, Luis Sánchez, Jessenia Guerra, Vanessa Chalmers and Jessica Giraldo.
Six recent MDC graduates aren't just writing their own success stories, they're also orchestrating the future success of 20 MDC American Dream scholarship recipients through a community-organizing campaign they created called 305 Rise.
The unprecedented American Dream Scholarship offers two years of in-state tuition and fees at MDC to hardworking students who earned a weighted GPA of 3.0 or better at Miami-Dade County high schools. Now 20 of these fortunate scholars also recently received mentoring from 305 Rise during a two-day retreat that focused on leadership development and provided assistance with the college-transfer application process.
Keynote speakers at the retreat included Harvard Medical School scientist Dr. Robert Sackstein and former City of Miami Mayor Manny Díaz.
Giving Back
"There is nothing more important than supporting inspiration," said Dr. Sackstein, who was born in Cuba and raised in Miami. "The real gift of life is the ability to help young people achieve their dreams."
Díaz, a graduate of MDC, said 305 Rise is another important step is his lifelong mission of "inspiring young people to enter public service."
Also represented at the retreat were members of Teach for America, a national corps of recent college graduates and professionals from all backgrounds who commit to teaching for two years in public schools.
Training New Mentors
Created by MDC alumni Laura Barrera, Vanessa Chalmers, Jessenia Guerra, Anabetsy Rivero, Luis Sánchez and Jessica Giraldo, 305 Rise's mission is to increase MDC's retention and college-completion rates. The group has also trained five MDC members of the Phi Theta Kappa national honor society to be facilitators, adding another level of peer engagement.
The vision shared by 305 Rise members is to make their program self-sustaining so that American Dream Scholars later become mentors themselves, inspiring the next group of talented students.
— WV
More Features Articles