---
Making Their Mark
Constructing a Path to Success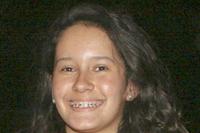 Nikole Cabrera
Aspiring to someday design homes for the underprivileged, architecture student Nikole Cabrera has a lot of heart. With the backing of Miami Dade College, the 18-year-old's drive to do good is garnering her a remarkable number of awards, setting her on a stellar path toward realizing her dream of helping those in need of housing.
Holding a 4.0 GPA in her second year at MDC's Honors College at Kendall Campus, Cabrera has won accolades and scholarships from numerous  high-power organizations. These honors are setting her well ahead of the pack for her future career development.
Top Awards
Cabrera has recently been named the 2011 Miami Chapter Student of the Year by the prestigious American Institute of Architects' (AIA), the NAWC Scholar by the National Association of Women in Construction, the Congressional Hispanic Caucus Institute (CHCI) & Marc Anthony Foundation Scholar, and the renowned Hispanic Scholarship Fund/Publix Supermarkets & Coca-Cola Live Positively Scholar.
In addition to receiving these scholarships, Cabrera has made the Dean's List and exhibited in various architecture showcases.
Academic excellence is only part of the reason Cabrera has been so lauded. Her service learning endeavors are a true expression of her ultimate goals for the future.
Serving as vice president of Kendall Campus' chapter of Imagination Federation (IF), a national nonprofit that aims to improve children's lives in Chacraseca, Nicaragua, Cabrera has raised funds and organized events in support of the organization's programs. One recent event Cabrera promoted was Walk 2 Nicaragua, in which MDC students walked around the Kendall Campus track a collective 1,080 miles – the distance from Miami to Chacraseca – to raise funds for IF's efforts, which include improving school infrastructures, raising teachers' salaries and providing a daily meal for the children attending school in the rural community.
European Adventure
Broadening her horizons through the Honors College, Cabrera participated in an architectural study abroad program that took her through Russia and eight other countries in Northern Europe. Most recently, Cabrera represented MDC as a student delegate for Universal Education at the Salzburg Global Seminar.
"I want to use my talent and passion for architecture to better the world, especially the world of those affected by poverty and social injustice," Cabrera said. "Every human being has the potential to make change, and I plan to do so, be it in the life of one or a thousand."
— MR
More Making Their Mark Articles