---
Powerful Partnerships
Continuing Education Meets Workforce Needs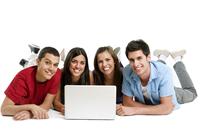 The five-year College and Career Pathways initiative is focused on keeping students in college and easing the transition into work life.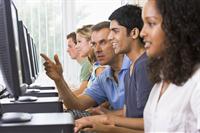 MDC's Continuing Education and Professional Development programs enable students and those already in the workforce to improve their vocational skills.
Responding to the community's growing need for highly skilled professionals, Miami Dade College's School of Continuing Education & Professional Development is beefing up efforts to keep students in school, help them advance to college courses and ultimately become valuable members of the workforce.
The recently launched five-year College and Career Pathways initiative is a partnership between the College and Miami-Dade County Public Schools. The program includes a strategic alliance with the Center for Adult Experiential Learning in Chicago, a nonprofit organization that works with schools and businesses to help people get the education and training they need.
Creating a New Mind-Set
"The goal is to reshape the mentality of our adult education students and provide them with the necessary tools so they are better prepared to enter post-secondary programs as well as the workforce," said Sherry Joseph-Dutton, MDC's Adult Education Director. The idea is to not only improve retention rates in adult education but also facilitate student transition to college and career opportunities.
The program, which is in the developmental phase, also involves "a lot more engagement on the part of the business community," Joseph-Dutton said. This will ensure that students are well-trained and prepared to fulfill the workforce needs of employers.
Drastically Cutting Unemployment
The jobless rate for those with less than a high school education is a discouraging 14.6 percent, Joseph-Dutton said, citing U.S. Department of Labor statistics. But there is hope. "If we can introduce that person to some type of post-secondary education, that unemployment rate will be cut almost in half," she said.
Miami Dade College and the school district serve 25 percent of the adult education students in the state. More than 200,000 Miami-Dade County adults age 25 and older have less than a ninth grade education, and 52 percent of all adults lack basic skills in English.
Quick Start to Major Improvements
Program participants already have completed what Joseph-Dutton described as a "very robust" 12-hour orientation. As they move through career modules, they are developing important skills, learning, for example, how to write a résumé, open a bank account and fill out a health form. They also are gaining insight into digital, civics and global literacies.
Funding for the initiative came from an $861,620 grant from the Florida Department of Education, with the College receiving $263,228 and the rest going to schools throughout the county. The funds are being used for professional and curriculum development as well as production of useful tools such as a shared data platform to facilitate testing, advisement and course enrollment.
— Staff Report
More Powerful Partnerships Articles