---
Powerful Partnerships
Donation Supports Special Needs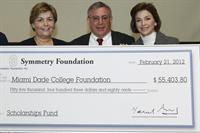 Left to right are MDC InterAmerican Campus President Gina Cortés-Suárez, Symmetry Foundation Chairman Marty Steinberg and MDC District Board of Trustees Chair Helen Aguirre Ferré.
The School of Education at Miami Dade College will have the opportunity to augment its already wide-ranging and diversified teaching programs with the help of a generous donation from Miami's Symmetry Foundation.
The Symmetry Foundation, founded to support a Miami school for high-functioning children with autism and Asperger's syndrome and other neurobiological disorders, is dissolving, and its board wanted to ensure that its remaining funds would be given to organizations in the region that would spend the money responsibly to make a positive impact on teacher education in this area.
"Since we have funds that have been donated to us, we want to make sure that these funds are provided to a stellar organization, such as Miami Dade College," said Marty Steinberg, Symmetry Foundation president and chairman.
In response to Symmetry Foundation's request that the funds will "support, fulfill and advance the educational and social needs of emotionally fragile, high-functioning children with neurobiological disorders," MDC's School of Education will use the money to implement a new teaching endorsement along with support for teachers working with students with these special types of needs, said Dr. Gina Cortés- Suárez, InterAmerican Campus president. This program complements MDC's Bachelor of Science in Education degree program in exceptional student education.
This special training program will be available to educators in both the Miami-Dade County Public Schools and private schools throughout the community. The Symmetry Foundation's generous donation also will help ensure that this valuable program is offered for years to come.
— MR
More Powerful Partnerships Articles