---
Powerful Partnerships
Curaçao Seeks MDC's Expertise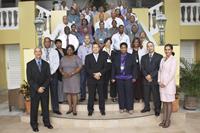 Many high-ranking officials from Curaçao completed a master class in public safety leadership designed by MDC's School of Justice.
Strengthening ties across the globe as well as fostering new ones is something Miami Dade College does with the kind of trailblazing effectiveness that has always characterized its academic programs, garnering both praise and emulation around the nation and across the globe.
Many cities and even countries have come to the College seeking help in training their task forces, administrative staff and government officials. Such was the case recently with the Ministry of Justice of Curaçao when it reached out to MDC and secured a contractual agreement in order to provide them with a master class in public safety leadership.
Intensive Training
The three-day master class, conceived of and tailored by MDC's School of Justice, consisted of three intensive leadership seminars. Upon completion, participants obtained a Certificate of Achievement in conjunction with Miami Dade College and Curaçao's Ministry of Justice. The first graduating class was made up of a diverse cross-section of the country's high-level ranking officials. Attendees included many law enforcement executives and security directors ranging from the national banking system to the country's oil refinery, as well as the director for the nation's prison system.
"They are very grateful to MDC for helping them take such master classes back to their country, and they have expressed their hope that this was the beginning of a long-standing, fruitful relationship between our College and Curaçao," said MDC School of Justice Director Dr. Héctor R. García, the force behind this project. His Executive Police Leadership series was the catalyst setting off the word-of-mouth publicity that brought the Curaçao government to MDC seeking training.
Program Grows
The impressive project has now snowballed, as St. Maarten is now procuring the School of Justice's services to help them install community policing in their country.
"They're planning to change the way they police St. Maarten," García said. "And they are seeking MDC's expertise to change the landscape of their policing philosophy – a true testament to MDC's reputation."
— HP
More Powerful Partnerships Articles