---
Academics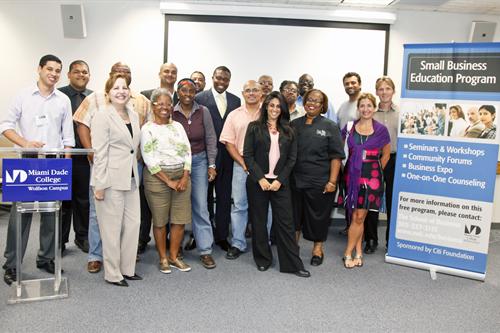 Workshops Offer Valuable Information for Entrepreneurs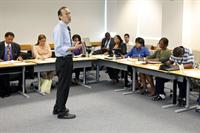 Attendees of a recent MDC workshop for small business owners and entrepreneurs listen intently to a presentation about marketing strategies.
Serving as an economic beacon in the community, MDC invited potential entrepreneurs to a series of informative, two-day workshops to impart vital knowledge on developing start-up businesses.
The Small Business Education Program at MDC's School of Business has been offering free workshops and seminars since 2007.
"This program, supported by grants from Citi Foundation, is a great venue to help start-ups and existing small businesses obtain the information needed to be successful," said Dr. Ana Cruz, chair of the School of Business at Wolfson Campus. 
Serving Hundreds
Hundreds of eager participants from some of Miami's most underserved areas have gained invaluable information to help start or sustain their own businesses. The workshops cover topics such as preparing an effective business plan, marketing and selling techniques, finding sources of funding and obtaining green certification. This beneficial training program recruits participants from low- to moderate-income areas and offers sessions in both English and Spanish.
Those attending the recent workshops learned from a panel of experts about the ins and outs of opening a new business and tips on preparing a business plan. In addition, one-on-one sessions with government and nonprofit agencies offered individualized assistance.
Insightful Forum
The workshops culminated with a Small Business Forum by keynote speakers Robert González, president and CEO of Print Media Inc., and Luis Capó, president of El Dorado Furniture. Forum presentations included tax information from an IRS representative; a session on elevator pitches; information needed to open a business provided by counselors from SCORE; and breakout sessions with financial and legal coaches who offered one-on-one advice.
"The feedback was very positive from those who attended the workshops and the Small Business Forum," Cruz said. 
— AMS
More Academics Articles