---
Academics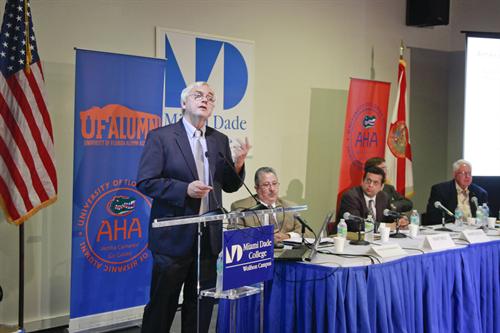 A Closer Look at the 2012 Presidential Election
Working to more thoroughly understand the national political landscape, Miami Dade College's Center for Latin American and Caribbean Initiatives (CLACI) and the University of Florida (UF) Association of Hispanic Alumni (AHA) recently held a symposium on the significant role and influence of Hispanics in the 2012 Presidential Election.
The role of the Hispanic electorate is rising in the United States. Latinos are the fastest-growing minority in the nation, and their vote may transition from being influential to being decisive in the next presidential election. The panel discussion focused on the unique attributes of different Hispanic communities across the nation, their electoral preferences and their potential role in defining key races in important states.
Panelists also analyzed Latino electoral preferences in connection to key policy topics, such as immigration reform, the economy, educational policy and U.S. foreign policy in Latin America.
The panelists, who offered insightful perspectives, included MDC Social Sciences Chair Dr. Víctor Vázquez-Hernández, UF Professor of Social Sciences Dr. Daniel A. Smith and UF Social Sciences Professor Dr. Richard Scher. Moderating the discussion were CLACI Executive Director Carlos Barrezueta and Dr. Michael Martínez, professor and chair of UF's Political Science department.
The symposium was part of the events that led up to this year's signature AHA event, the ninth annual Gator Guayabera Guateque (GGG), which raises funds for scholarships for minority students. Both MDC and UF students have received scholarships from the AHA as a result of this important event.
— BK
More Academics Articles