---
Powerful Partnerships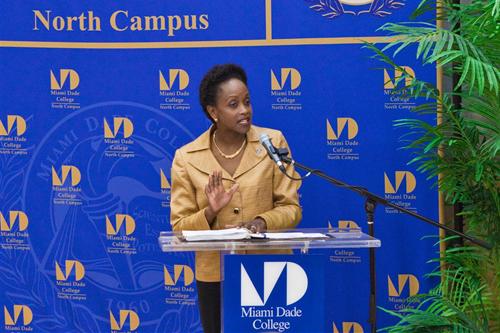 Wise Lessons in World Affairs
Gaining insights from our nation's top experts, MDC student leaders and Model United Nations delegates recently learned valuable lessons in diplomacy from Dr. Esther Brimmer, the U.S. Assistant Secretary of State for International Organization Affairs.
Brimmer visited the College to share her vast knowledge with students during an enlightening forum presented by North Campus' Social Sciences Department working in partnership with the Miami Chapter of the United Nations Association of the United States of America (UNA-USA).
Worldwide Awareness
"Global affairs continue to be central throughout our curriculum," said Dr. José A. Vicente, president of North and West campuses.
Students showed their command of the topic in the questions they asked Brimmer, who works to advance U.S. interests through international organizations in areas including human rights, peacekeeping, food security, humanitarian relief and climate change.
Creating Global Connections
"Once again this intersection and interconnection between our students and our nation's top leaders demonstrates that Miami Dade College is the nexus that connects the world to our community and our community to the world," said Endowed Teaching Chair Dr. Mike Lenaghan, who teaches at North Campus.
Brimmer also offered students her perspectives on international security from an academic and political standpoint. Before her appointment in 2009, she was deputy director and director of research at the Center for Transatlantic Relations at the Paul H. Nitze School of Advanced International Studies at Johns Hopkins University, where she specialized in transatlantic political and security affairs.
— Staff Report
More Powerful Partnerships Articles