---
Powerful Partnerships
The Kenyan Connection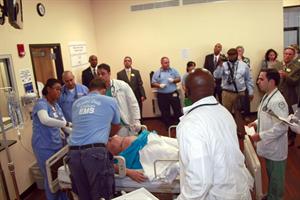 During a recent visit by Kenyan Minister of Medical Services Peter Anyang' Nyong'o, MDC Medical Campus students demonstrated how they train using a patient simulator.
Miami Dade College's Medical Campus recently welcomed Kenyan Minister of Medical Services Peter Anyang' Nyong'o, who visited to explore the potential for partnerships with MDC that would enhance medical training and care in the East African country.
"I am very impressed with the diversity and depth of the courses and specializations offered at Miami Dade College," said Nyong'o, who received a personal tour of MDC's medical facilities from Medical Campus President Dr. Armando Ferrer and Dr. Folorunso Ibraheem, an MDC professor who established American-Kenyan Health & Wellness, an international health program serving the people of Kenya and other countries in East Africa. Miami-Dade County's Office of Economic Development and International Trade helped facilitate the minister's visit to the College.
Nyong'o toured MDC's impressive labs and dental and vision clinics, which serve thousands of people each year at unbeatably low costs. He also witnessed a demonstration of Medical Campus' state-of-the-art patient simulator, which enables students to experience highly realistic medical scenarios starting from their very first semester at MDC.
"I see areas for collaboration and exchange of students to transfer knowledge that will benefit medicine in Kenya," the minister said.
"Here at Medical Campus we have students from five different programs – physician assistant, respiratory therapy, emergency medical technician, health care informatics specialist and nursing – all working together," said Dr. Amy Pettigrew, MDC's dean of nursing. "This is really what a team would look like in a hospital intensive care unit."
Having prepared generations of medical professionals while serving the community's health needs for decades, Medical Campus is well-deserving of the international attention. "It is an incredible jewel for the community," said Dr. Ferrer. "The combination of accessibility, low cost and high-quality care is second to none. Any time we can share our knowledge with other individuals, we fulfill part of our mission."
— MR
More Powerful Partnerships Articles