---
Academics
Giving Children a Great Start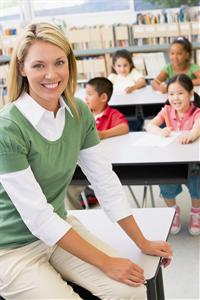 MDC's new Bachelor of Science in Early Childhood Education is poised to prepare teachers with the most up-to-date proven methods to set young students up for a lifetime of academic success.
In its continuing work to elevate the quality of education in the U.S., Miami Dade College this fall proudly launches its new Bachelor of Science in Early Childhood Education. The research-based program will equip the next generation of teachers with the best skills to enrich the minds of young children from the start.
Carefully crafted by the seasoned and innovative faculty of MDC's School of Education with assistance from the University of Florida (UF), the program is a standout in the field. Building on the solid foundation of MDC's existing teacher education programs, the new bachelor's degree not only prepares educators with the field's most current and proven methodologies and philosophies but also goes above and beyond by offering two areas of state certification built into the program, rendering students highly qualified and immediately employable.
"We embedded into the program all the state tests and requirements for certifications to teach children from birth to age 4 and also age 3 to grade 3," said Dr. Susan Neimand, director of MDC's School of Education. "When students finish, they are ready for the workforce."
A Step Ahead
Further setting MDC graduates apart from their peers, the program gives students three additional endorsements on their certifications – English for Speakers of Other Languages (ESOL), reading and pre-K disabilities – making them all-around better educators.
The bachelor's program has received approval from the Southern Association of Colleges and Schools (SACS) and also the Florida Department of Education's Bureau of Educator Recruitment, Development and Retention. The early childhood associate degree programs that feed the B.S.-ECE are in the final stages of accreditation from the National Association for the Education of Young Children (NAEYC), the nation's leading professional institution for early childhood education.
"Our degree is different from others in that it is actually more similar to what the University of Florida now offers at the master's level," said Dr. Neimand. "In fact, we are in discussion with UF concerning an articulation agreement to their master's programs."
Making an Impact
The program's high caliber is in line with the growing consensus that learning acquired in early childhood is essential to later academic success.
"There is a real movement to upgrade early childhood education because it is the foundation for lifelong learning," said Dr. Neimand. "If we make it a priority to work with children early on, making sure they are ready for school and taught to read by grade 1, there would be far fewer problems on the other end." 
— MR
More Academics Articles