---
Academics
Working in the Great Outdoors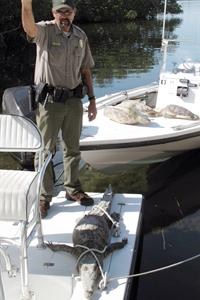 The new MDC program trains park rangers, such as the one here who transported endangered animals killed by a cold snap so that they could be studied by scientists.
Students at MDC's School of Justice now have an additional career path open to them with the establishment of a new training program for Seasonal Law Enforcement Park Rangers. Graduates of the 15-week program will be eligible to work as seasonal law enforcement rangers in 395 parks across the nation, including four national parks found in South Florida – Everglades, Biscayne and Dry Tortugas national parks and Big Cypress National Preserve.
The only one of its kind south of North Carolina, this new ranger certification program gives students access to opportunities in a field that's experiencing rapid growth. Impressed with the College's exceptional track record in job preparation, the National Parks Service approached MDC's School of Justice indicating a strong need for seasonal park law enforcement rangers both in South Florida and throughout the southeastern area of the country. With classes beginning this fall, students will have a closer, more affordable education option.
"It's a great benefit because now this program is here in the Miami-Dade area where the jobs and personnel are needed," said Dr. Hector García, director of the School of Justice. "It's a great advantage for someone from the local area to be able to be trained and certified without having to travel many states away and also incur additional costs."
The MDC program is supported by the Florida Bay Stewardship Fund (FBSF) of the South Florida National Parks Trust and its partner, the National Parks Conservation Association. Last fall, members of the FBSF presented a $35,000 check for the establishment of the academy. Tuition costs are estimated at $4,000 per student and the first graduating class is anticipated at the end of the fall 2012 semester. 
— AMS
More Academics Articles