---
Academics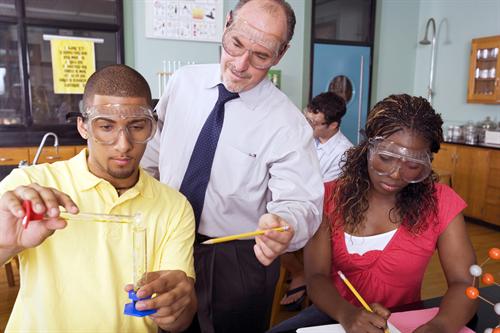 An Oasis for STEM Success
As the nationwide call for gains in science, technology, engineering and math (STEM) education grows stronger, Miami Dade College is helping underrepresented students get the support they need to rise up into those high-paying, in-demand fields. One of several initiatives is a new program housed at InterAmerican Campus.
Partly funded by the U.S. Department of Education, STEM OASIS (Organized Approaches for Success in Science) keeps high-need minority students engaged and on track in their STEM studies. The program combines a number of proven learning strategies with enriching STEM-based experiences, such as portfolio and study guidance, faculty mentoring, stipend research opportunities and peer-led team learning. In addition, there are paid peer-leader positions, cohort experiences, career-related lectures and site visits. This kind of multifaceted support is crucial, with research indicating that many students with the potential to achieve in STEM areas consider these paths of study inaccessible.
Sobering Statistics
According to a recent White House report, low-performing students with a high interest and aptitude in STEM careers often have difficulty with the math required in introductory STEM courses and receive little help from their colleges. Furthermore, STEM majors from underrepresented groups cited an unwelcoming atmosphere in STEM courses as a reason for leaving the field.
The result: Women and members of minority groups, who constitute about 70 percent of college students, represent only 45 percent of STEM graduates, according to the report. Other assessments have placed that rate as low as 15 percent.
Fields of the Future
"Our nation's ability to sustain itself depends on STEM careers and advancement," said Dr. Zhiqi Zhang, STEM OASIS program director. "STEM majors develop innovations in products, processes and services that improve our quality of life and also create new industries that can drive job growth," resulting in a win-win for both STEM students and the nation as a whole, which has become increasingly dependent upon innovation as it faces global challenges in areas such as energy and conservation.
The benefits of the STEM OASIS program to students will long outlast their college years. By giving them the confidence to succeed in STEM, they not only look forward to greater employment prospects after graduation but, by earning higher incomes, will also have a long-term lifting effect on the quality of life of their families and their communities.
— MR
More Academics Articles