---
Academics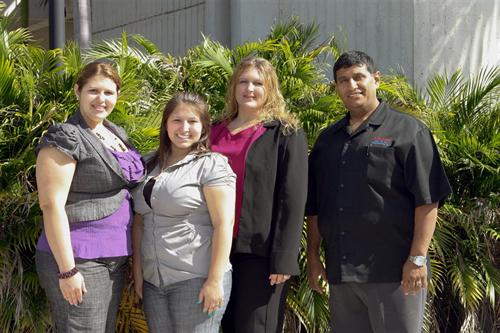 Achieving Goals Together
Christina Farias is an ambitious high-achiever. Her innate desire to excel inspired her to take classes with one of her strongest academic competitors at Miami Dade College: her father.
"I love it," she said of the shared collegiate experience. "The fact that my dad is in class with me makes me want to do even better."
So far, dad knows best, both in terms of which college to choose and how to lead a rewarding, action-packed life. Moving full-steam ahead both professionally and academically, Johnny Farias, 42, just completed his MDC degree. Majoring in political science and maintaining a strong 3.4 grade-point average, he balanced the demands of college studies while working full time as an electrician.
A Natural Leader
Christina, 22, stays just as busy as her dad. She double majored in business management and pre-law, carried a 3.2 GPA and also served as president of the Students in Free Enterprise business club at the College.
Father and daughter graduated from MDC in May, but they are not the family's only MDC students. Jessica, 20, is a freshman studying to be a teacher.
And Bobbi, 38, who is Johnny's wife and mother of both girls, is studying business management. All four have attended classes at MDC's Kendall Campus.
Something for Everyone
"I see so many kids who have the mind to go to college but don't have the opportunity," Johnny said. "I'm grateful that MDC gave us the chance to not only go to college but to do it together as a family."
Johnny, who was born in Ecuador and raised in Brooklyn, N.Y., went from high school to the U.S. Navy. He met Bobbi, and they started a family.
Raising five children didn't leave much time for school, but when Christina started her college career, Johnny decided it was time for him to get his degree, too. Bobbi followed soon after.
"I wanted to serve as an example for my kids," said Bobbi, who was born in Memphis, Tenn., and moved numerous times as the daughter of a military man. "But I also want to better myself. I feel like I am doing both thanks to the College."
Now, through MDC, education for the Farias family is truly opening the doors of opportunity to a whole new generation.
— WV
More Academics Articles