---
Making Their Mark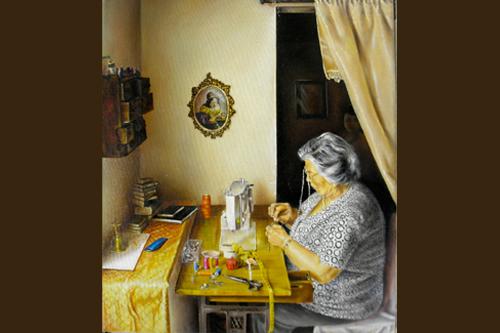 In a League of Their Own
MDC students have once again done the College proud, winning highest honors at the League for Innovation's annual Student Art Competition.
Alejandro Valencia, who studies at MDC's North Campus, was the first-place grand prize winner at the national competition, followed closely by New World School of the Arts student Rafael Domenech, who placed third.
Although the College has a longstanding history of producing competition winners, this is the second year in a row that an MDC student has taken the grand prize, a testament to the dedication of its faculty and hard-working students.
Shining Above All
"The fierce competition Alex and Rafael faced from the 93 other finalists before a jury of arts professionals highlights their talent as well as the skill and devotion of their professors, Víctor Gómez and Aramis O'Reilly," said Wanda Texon, director of MDC's Galleries of Art + Design.
Valencia earned the highest recognition with his exquisitely executed painting Portrait of My Grandmother Sewing – Homage to Vermeer. Though matter-of-fact in its presentation of a specific moment in time, the painting exudes a subtle but deeply genuine tenderness of a childhood memory that speaks volumes to all who view it.
Striking a Common Chord
"I grew up close to my grandmother, and I would often see her sewing and knitting," recalled Valencia. "Many people who have come across the piece have told me that they relate to its intimacy and reminisce about how their grandmothers or mothers would mend their garments." By meditating on this simple domestic act, Valencia taps deep sentiments tied to family, security and maternal love.
"It is a great honor to be able to represent MDC and show how much talent it hones," said Valencia. "I owe many of the achievements and opportunities that were opened to me to my professors, who really push us forward and guide all of us dreamers to fulfilling our goals."
— MR
More Making Their Mark Articles