---
Powerful Partnerships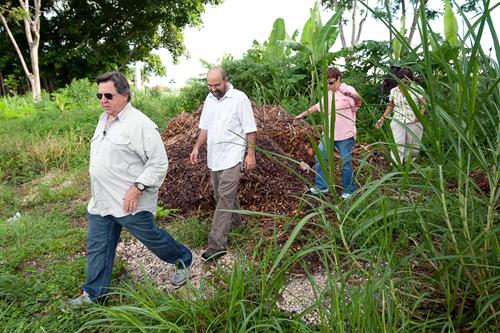 Tuyo Harvests Community Partnerships
Further embracing its mission of sustainability, Miami Dade College's acclaimed Tuyo restaurant recently formed a new purchasing partnership with Homestead's Verde Gardens, agreeing to source produce year-round from the 22-acre organic farm to supplement its own organic garden at Miami Culinary Institute, where the Downtown Miami hotspot sits perched above the city skyline.
The joint venture also will create new employment opportunities for 550 formerly homeless residents who are part of the housing community at Verde Gardens, a collaborative effort of the Miami-Dade County Homeless Trust and affordable housing developer Carrfour Supportive Housing. In addition to offering much-needed housing, Verde Gardens yields a positive community impact through its ecological farm, which provides residents the opportunity to work, develop microenterprises and staff a public farmer's market located on the property.
"The same way Carrfour and the Homeless Trust are committed to empowering formerly homeless families, Chef Norman Van Aken has built a career around sourcing South Florida ingredients and supporting local communities," said Stephanie Berman, president of Carrfour Supportive Housing. "Our missions are very much aligned, with the relationship between Verde Gardens and Tuyo serving as a model for communities in other parts of the country."
The farm's weekly harvests are incorporated into Van Aken's celebrated New World fusion cuisine. Tuyo's focus on local produce, coupled with Verde Gardens' emphasis on sustainability, independence for families and the use of permaculture farming techniques, makes them perfect partners, Van Aken said.
"There is no end to the possibilities we see with this relationship," he said.  "We reinforce how well the concept of farm-to-table food works. In addition, there are teaching components between students and residents, social work components, food marketing skills training – the opportunities are endless. It's a relationship no other organization in the region can boast, and it's just getting started."
— AMS
More Powerful Partnerships Articles