---
Powerful Partnerships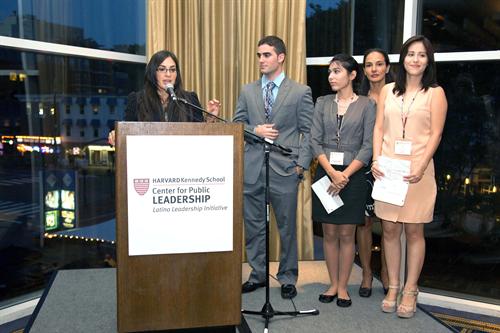 Harvard Collaboration Builds Leaders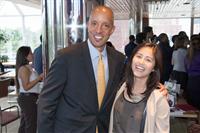 Harvard Business School lecturer Andy Zelleke and MDC student Amalia Mariaca shared a laugh during the Latino Leadership Intiative.
This summer, five outstanding MDC students honed their skills at the prestigious Latino Leadership Initiative (LLI) at the Harvard Kennedy School's Center for Public Leadership. This is the second year of a partnership between Harvard and Miami Dade College to prepare students for the opportunities and challenges they will face in the coming decades.
The intensive, weeklong initiative included classes on community organizing, negotiation, public speaking, moral leadership, innovation and the arts and activism. The program also gave the five MDC participants unique opportunities to build relationships with respected Latino mentors from diverse sectors, including government, nonprofit organizations and business entities.
Exceptional Opportunity
"Being part of this is an incredibly important opportunity for MDC and the participating students because LLI is helping create the next generation of Hispanic leaders, and leaders of any ethnicity, who want to serve the Latino population. The emphasis is on political and civic leadership to build a better world, which is education's ultimate goal," said Joshua Young, director of MDC's Institute for Civic Engagement and Democracy.
Bringing their Harvard training back home to MDC, the students will now develop a team-based leadership project in Miami to enrich their community and put theory into practice.
Five Top Achievers
This year's MDC participants included:
Biology major Dayron León, who has served as a senator in MDC's Student Government Association and vice president of Alpha Mu Gamma. A member of Phi Theta Kappa (PTK) Honor Society and the Association for Research in Vision and Ophthalmology, he also is a student researcher at an oncology research laboratory at the Bascom Palmer Eye Institute. 
International relations major Amalia Mariaca, who is a member of the PTK, Phi Beta Lambda (PBL) and Alpha Mu Gamma honor societies and has been an intern for U.S. Senator Bill Nelson and at Bank of America. Active in community service, she has worked on All Nighter for Haiti, the Casimiro Foundation's toy drive and MDC's sexual awareness campaign.
Electronic engineering technology major Ana María Quevedo, who recently came to MDC to earn a bachelor's degree even though she had completed an associate degree in 1986. Armed with experience obtained in her career, she has used her leadership skills to lead class projects, participate in a research symposium in Puerto Rico and complete a research internship at the University of California.
Mathematics education major Yanina Reyes, who has served as vice president of the mathematics club at InterAmerican Campus and is a member of the PTK and Alpha Mu Gamma honor societies. She has also devoted many hours to tutoring fellow college students at the math lab – from simple arithmetic to more complicated calculus work.
International relations major Paula Vieira, who is a member of the PTK Honor Society. She has served as the deputy head delegate of MDC's Model United Nations and completed many community service projects, including the Walk to End Alzheimer's and All Nighter for Haiti. She has also served as historian for the Future Leaders of America.
— BK
More Powerful Partnerships Articles