---
Academics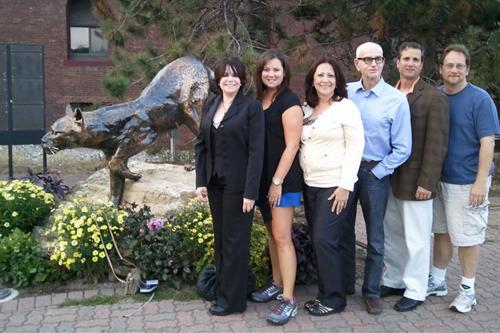 Building Bridges to Democracy
Expanding the breadth and depth of college curriculum across the nation, six Miami Dade College professors and staff recently were among colleagues from 10 top U.S. colleges to play a leadership role in a new civic-learning initiative funded by the National Endowment for the Humanities (NEH) and the Association of American Colleges and Universities (AAC&U).
Over the summer, teams from the 10 institutions met for an intensive, work-filled, six-day workshop to develop curriculum and train faculty in the democracy-building project called "Bridging Cultures to Form a Nation: Difference, Community and Democratic Thinking."
"Miami Dade College is at the forefront of this national initiative," said Dr. Rosa Mayorga, the MDC project leader and chair of the Department of Arts and Philosophy at Wolfson Campus. "After making curricular revisions in their own courses, the MDC professors will create faculty development workshops to share their ideas across MDC's campuses and with other local colleges."
Collaborative Effort
To achieve these far-reaching educational goals, the MDC Bridging Cultures team will draw upon support from the College's award-winning Institute for Civic Education and Democracy (iCED) along with College Training and Development (CT&D).
MDC Bridging Cultures participants include professors from four different MDC campuses representing the disciplines of philosophy, fine arts and history. The summer workshop was the first stage of the three-year program, which is co-sponsored by The Democracy Commitment: An American Community College Initiative (TDC).
Colleges in the Bridging Cultures project are answering the call to action from a recent national report about the future of democracy, said Caryn McTighe Musil, senior vice president for AAC&U and NEH project co-director. The report urges higher education institutions to focus once again on civic learning and not limit their coursework to workforce preparation.
Increasing Civic Engagement
As the project moves forward, MDC faculty will infuse their coursework with questions about democratic thinking, community engagement and the understanding of cultural and socio-economic differences.
"The goal is to promote greater adoption of proven high-impact practices that advance important civic learning outcomes, which form the cornerstone of MDC's mission to prepare students to be responsible citizens," Mayorga said. "Best of all, these efforts won't stop here. We will then expand the project's impact through collaborations with other colleges in the region and through partnerships with state humanities councils."
— BK
More Academics Articles