---
Features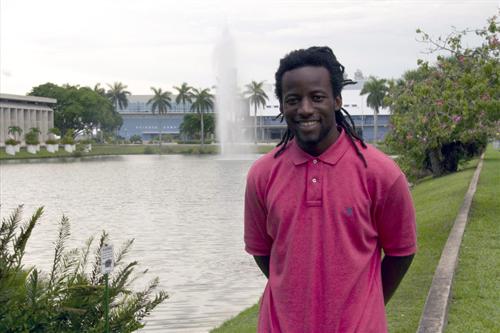 Single Stop Transforms Multiple Lives

MDC North Campus students Aileen Llado and Tre King are thriving academically thanks to coaching from their Single Stop mentors. They also have become best friends and peer mentors for each other.
Change is often difficult but essential when a tough environment and challenging circumstances prevent students from achieving their potential. To ease the transition, Miami Dade College entered an innovative partnership in 2010 with Single Stop USA, and the effort already is producing outstanding results garnering the attention of higher education leaders across the nation.
In the past two years, Single Stop has helped more than 7,000 MDC students receive more than $14 million in federal aid, and $65 billion remains untapped nationwide, said MDC Single Stop Director Barbara Pryor.
Supported by a grant from the Kresge Foundation, the program helps low-income families access a wide variety of benefits and services ranging from free tax preparation and free legal advice to getting energy vouchers, receiving financial counseling and applying for childcare subsidies, housing and health insurance.
A New Lease on Life
One of thousands of MDC students benefiting from the program is Tre King, a true survivor who knows life's harsh realities but still thrives. From the time he was born, the 19-year-old MDC social work major has dealt with a drug-addicted mother and living within his family's tight income, which never topped $25,000 a year.
"All my friends from high school moved, died or are now in jail," King said. "But I was truly inspired by my MDC Single Stop mentor Professor Jaime Anzalotta." A former high-school dropout, Anzalotta understood the challenges King faced. Now completing a Ph.D. and his 15th year teaching at MDC, Anzalotta is living proof for King that great goals can be achieved through steadfast determination.
"I want to work as a counselor for juveniles," said King. "I want to get a master's, maybe even a Ph.D., so I make a difference in kids' lives like Professor Anzalotta has in mine."
With minimal family resources, college seemed out of reach for King, but his luck changed when he entered Single Stop. In addition to the program's exceptional guidance in finding the right financial resources, King received the unique one-on-one coaching that Anzalotta provided as part of Single Stop's iMentor program, which pairs students with successful professionals dedicated to helping them navigate their way through college and life.
Great mentors come not only from MDC, but also a wide variety of fields, ranging from high-ranking executives at ConAgra Foods and Acceller digital services to City of West Miami Police Captain Nelson Andreu and Attorney Marili Cancio, who also serves on the MDC District Board of Trustees.
Becoming an Even Better Dad
For 25-year-old military veteran Kenneth Sims, the sage advice of a mentor was just what he needed to guide him in balancing the demands of his computer information systems classes with his job and desire to spend quality time with his 7-year-old son.
Speaking fondly of mentor Manny Pérez, who is the chief information officer at MDC's North Campus, Sims said, "He encourages me to study. While inspiring me, he also makes sure I carefully budget my time and resources."
In addition to providing a great mentor, Single Stop helped Sims learn about what to look for in transfer universities.
Student Completion Rises
"Single Stop is becoming a game-changer for increasing graduation rates," said Pryor. "Students can also focus their efforts on things other than financial issues and no longer are forced to choose between feeding their families or completing a college education."
While this powerful resource now is helping thousands, it can eventually help tens of thousands, just as it has MDC broadcast major Aileen Llado. The 17-year-old is now on track to completing her degree after having first dropped out of high school and then college due to her family's difficult economic situation.
"I thought I would never go back, especially because my mom not only has to worry about me but also about my two siblings," Llado said. "I felt like education wasn't for me."
Llado now is motivated to stay in school thanks to her mentor Katrika Sterling, an MDC professor of speech at North Campus. Also through Single Stop's helping hand, Llado receives food stamps and other benefits to help her mom.
To learn more about Single Stop or to become a mentor and change a student's life, visit www.mdc.edu/main/singlestop.
More Features Articles